News
Conversion for the B...



Create an entry
ArniesAirsoft portal has reminded everyone yesterday about a somewhat forgotten Taiwanese manufacturer of gas powered replicas, STTI (Spring Time Taiwan Inc.) once known for making pistols of questionable quality and durability. The immediate reason was STTI's announcement of a new product, a conversion kit for Beretta M92 pistol replicas. The set allows you to change the pistol into a PDW weapon. The idea is not new as there are many similar sets for Glock GBB pistol replicas as well as real guns.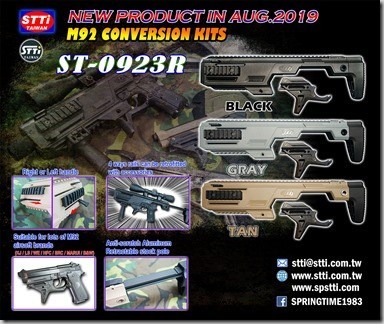 Although the poster shows 3 color versions of the STTI product, the description only mentions 2 colors: black and sand.


In addition to the collapsible buttstock, another advantage are four Picatinny rails, two short side mounted, one bottom mounted and a top one running along the entire length of the body and double-sided charging handle.
Weight of the conversion kit: 720g.
The set is compatible with the M92 and M9A1 replicas by TM, KJW, SRC, WE and HFC.
The price and market release date have not yet been given.
Photos: STTI