It's been almost 50 years since Tim Leatherman came up with the idea of combining the popular Swiss Army Knife with pliers. The popularity of this solution meant that many imitators and even more Chinese copies appeared quickly on the market. While describing the Leatherman TREAD model at WMASG two and a half years ago, which is a very imaginative but also very unusual multi-tool, I was thinking that it will become more and more difficult to really surprise customers with something new, to reinvent the proverbial wheel. And expectations from the market leader will be even bigger. As it turns out, Leatherman engineers have not been sitting idle for the last five years.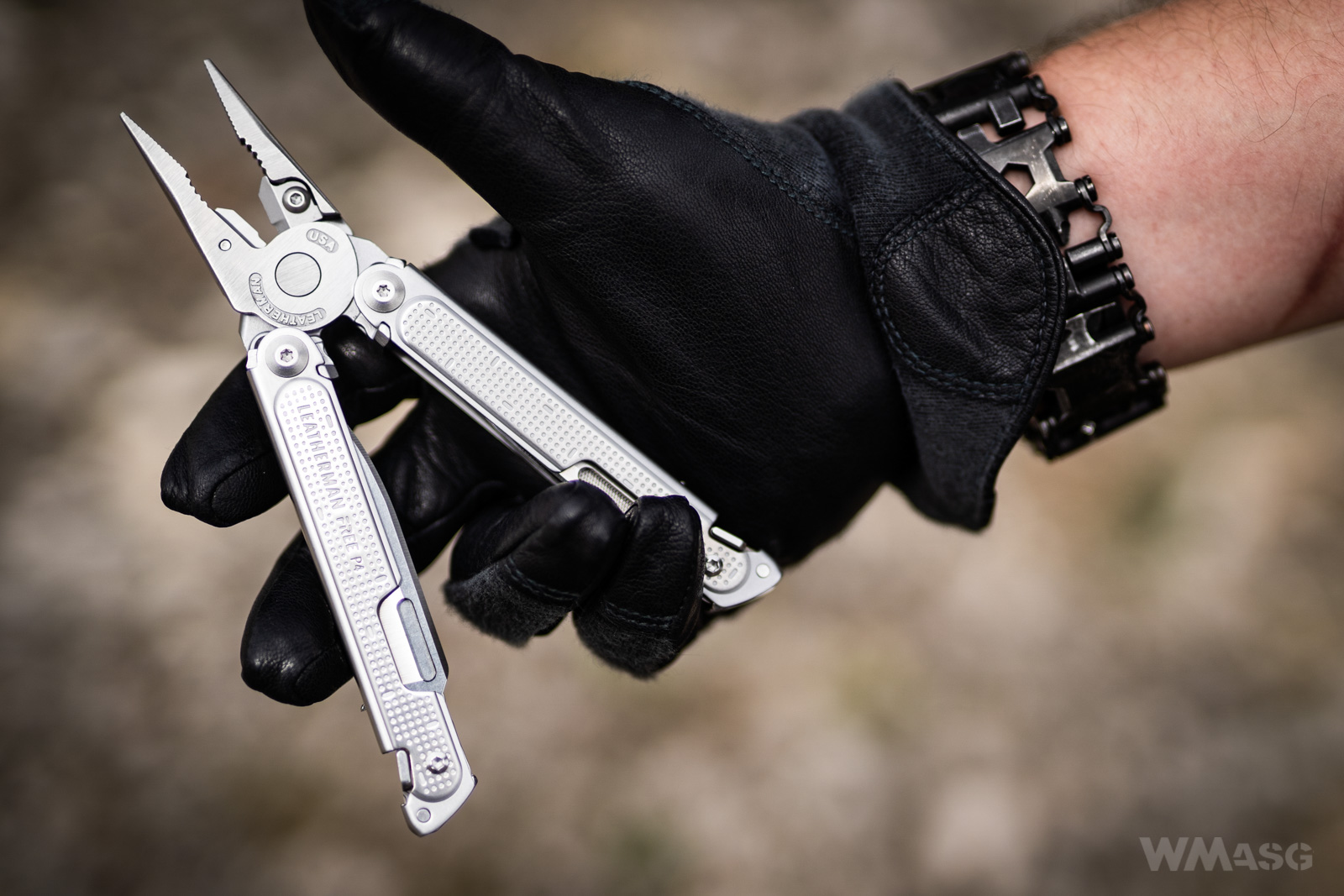 The new FREE series consists of the T line (in the form of a classic pocket knife), the K line (folding blade knife) and the P line (multi-tool). The first two are still awaiting their release and the P line, described in this article, has just appeared in stores. At first glance, it is still a classic known and loved by fans of EDC (Every Day Carry), a multi-tool, which is as universal as it is advertised. The wheel was not seemingly reinvented in this case. It is a solid piece of stainless steel already known from other Leathermen products, but in a much more attractive and elegant form. The secret here is a completely new design. Leatherman FREE has been conceived and built completely from scratch. The only interchangeable parts with other models are the wire cutters in the pliers. Developers market their product as the most innovative model ever since the PST was made and the most durable multi-tool they've ever designed. In one of the interviews, Peter Parker (Leatherman senior product design engineer) said that the experience gained from warranty repairs and suggestions coming from users for the past many years were not without significance. Looking from this side, Leatherman, by giving a 25-year warranty on its products (in practice it almost always means a replacement for a new product), has an excellent training ground for its products. It is also worth noting that it is rare now for a big manufacturer not to move its production line to Asia and remained in its place of origin, which in this case is in Portland, Oregon in the USA.
<iframe width="640" height="360" src="https://www.youtube.com/embed/oGAwpqwmHws?wmode=opaque" frameborder="0" allowfullscreen="" />Manufacturer's promotional materials
Leatherman FREE P4 - review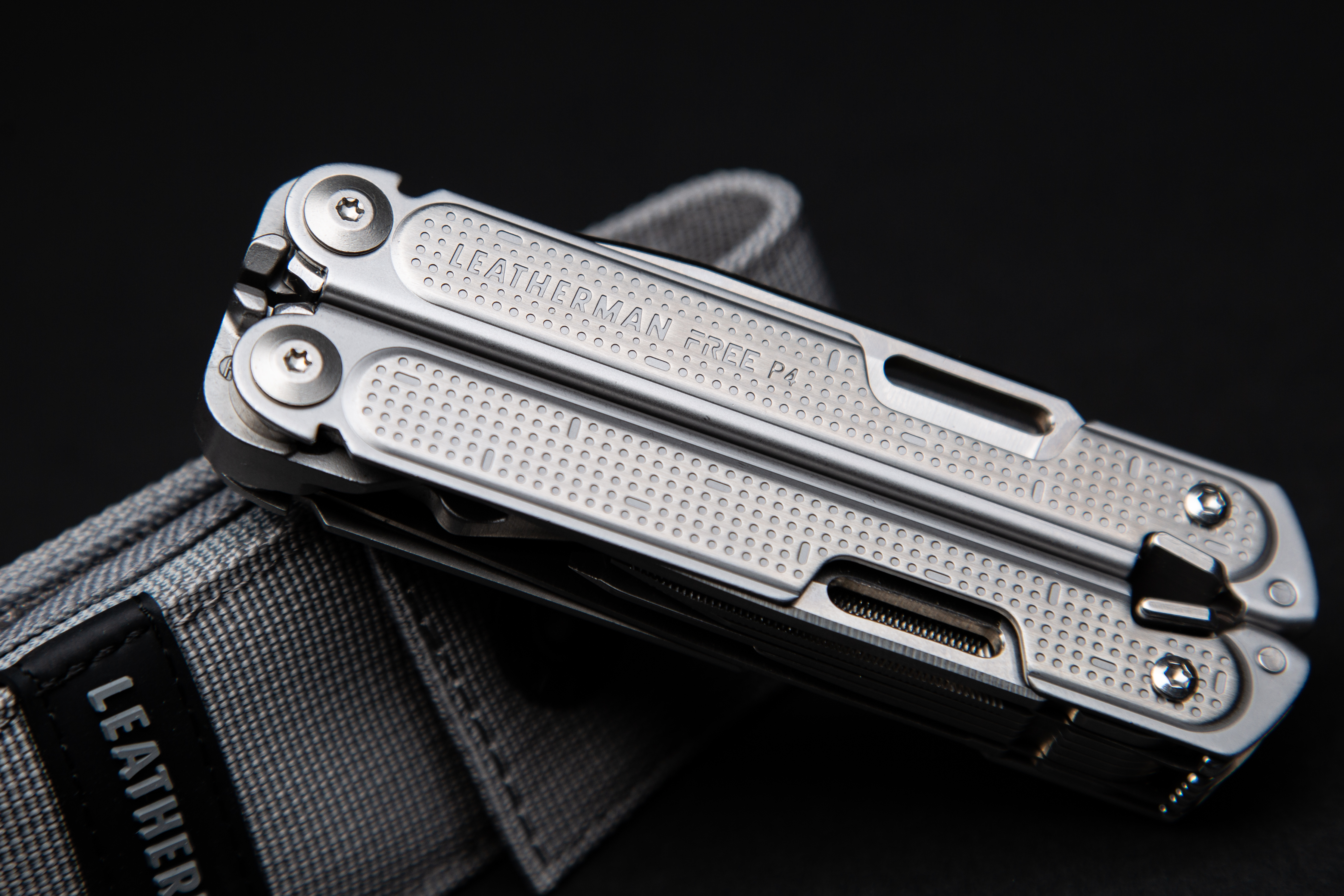 A complete novelty is the use of a magnet in the design of a multi-toola, as a part preventing it from unfolding by itself. After overcoming a relatively small but sufficient force of the magnet, the pliers are very comfortable to unfold. The magnet also holds the remaining tools in place, making it possible to design a more convenient way to open them. Throughout the whole FREE series, we use the finger pad to unfold a specific tool rather than a finger nail. This makes it possible to use the multi-tool even more comfortably with gloves on. According to the manufacturer, the magnet is protected and its impact on the outside environment is harmless and negligible.
As an experiment the magnet was able to hold the nut, but barely
In the FREE series, the freedom of operating the multi-tool's individual tools is on a whole new level. It is probably for this reason that the series name in such a way. The tools are easily availability using only one hand, and the action of unfolding the pliers off soon becomes quite addictive ... Like a fidget spinner for adults. Sentimental fans of the butterfly system should also feel satisfied.
<iframe width="640" height="360" src="https://www.youtube.com/embed/txxWU0et7J4?wmode=opaque" frameborder="0" allowfullscreen="" />
Manufacturer's promotional materials
As we have learned, a new elastoplast spring was used in the tool's design which, in the manufacturer's tests, lasted more than a million uses! However, the spring that opens the pliers' arms has been done away with and the arms must be extended by hand. Unfolding the pliers is completed by engaging the lock with a clear "click" sound (this is supposedly one of the suggestions taken from customers). And it is similar with other tools, they all unfold freely until engaging the internal locking system. This is another feature in the FREE series solved in a completely new way. The lock is convenient and can be released on both sides. The multi-tool, as well as any of its tools, you can successfully folded using just one hand.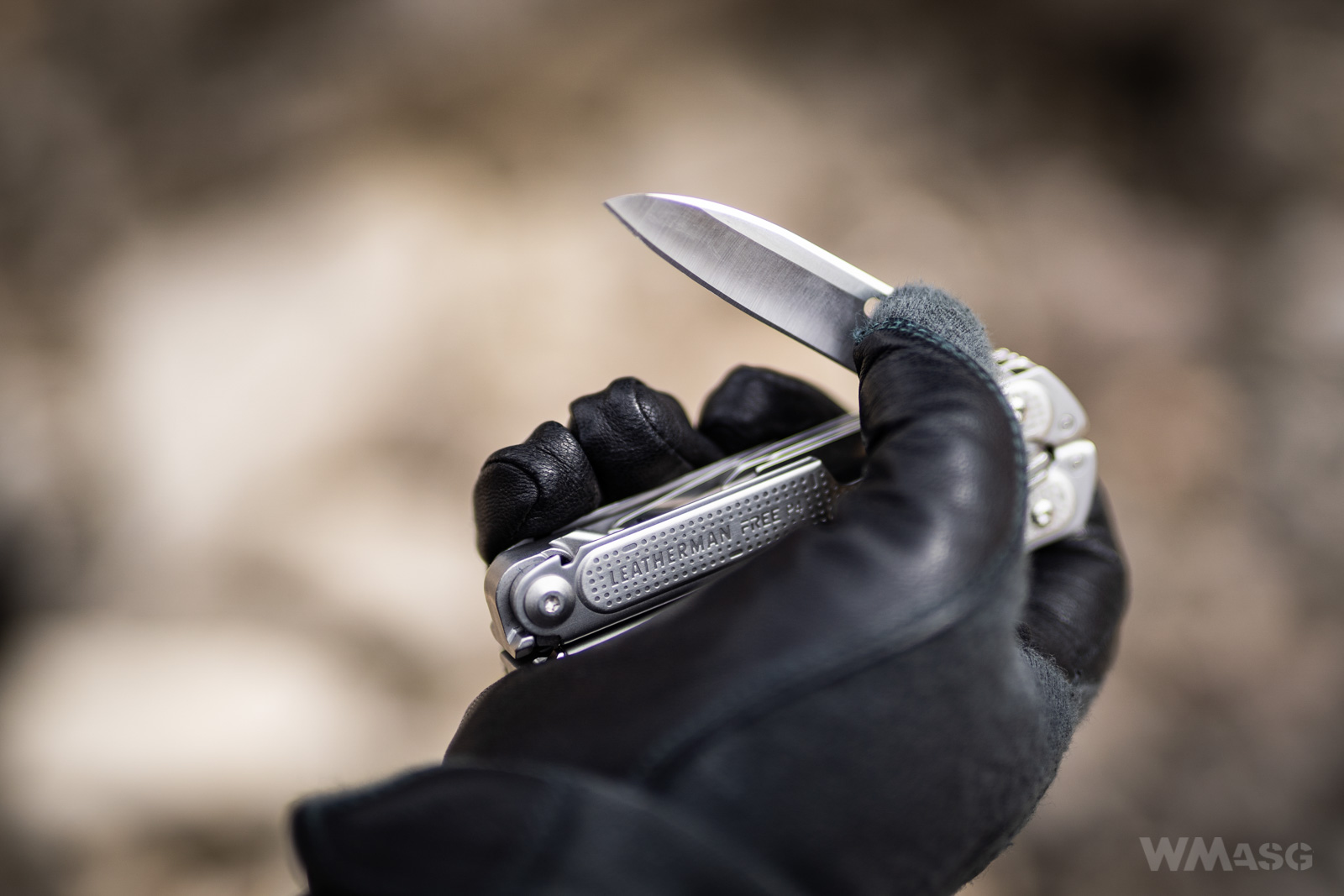 In addition to the pliers, we have a very fast access to two blades made from 420HC steel (smooth and serrated) and a wood saw and comfortable scissors. The latter are slimmer and more comfortable to use than, for example, those found in the "Wingman" model.
There are other tools which, of course, can be easily unfolded using just one hand, but it will not be done with just one move (pressing with the finger pad in the right place we overcome the force of the magnet and then select the appropriate tool). There are a total of 21 tools in FREE P4 model.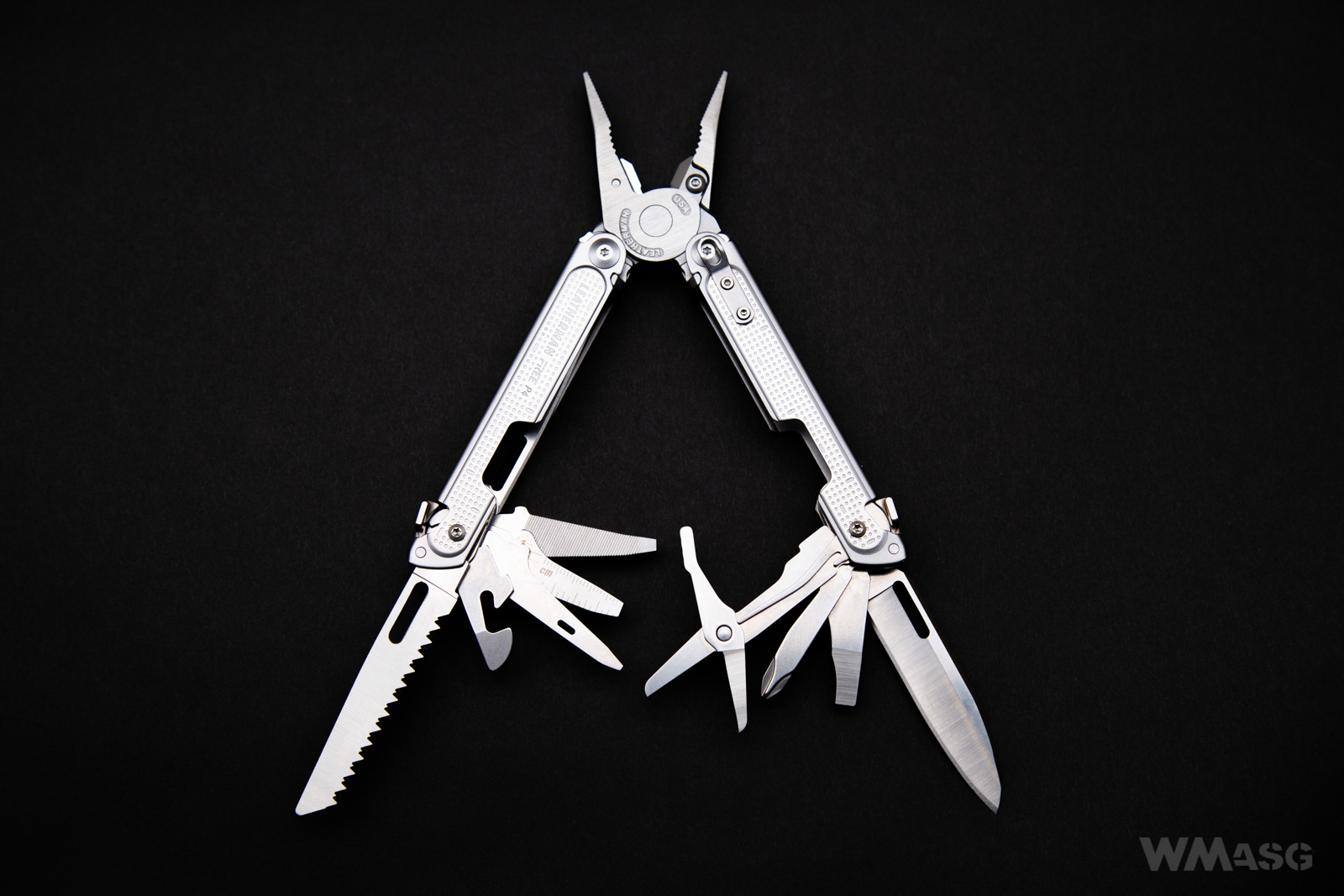 However, this does not mean a multitude of separate functional tool tips that can be unfolded. The designers have placed many of the tools within a single arm. For example, an arm with a smooth blade includes: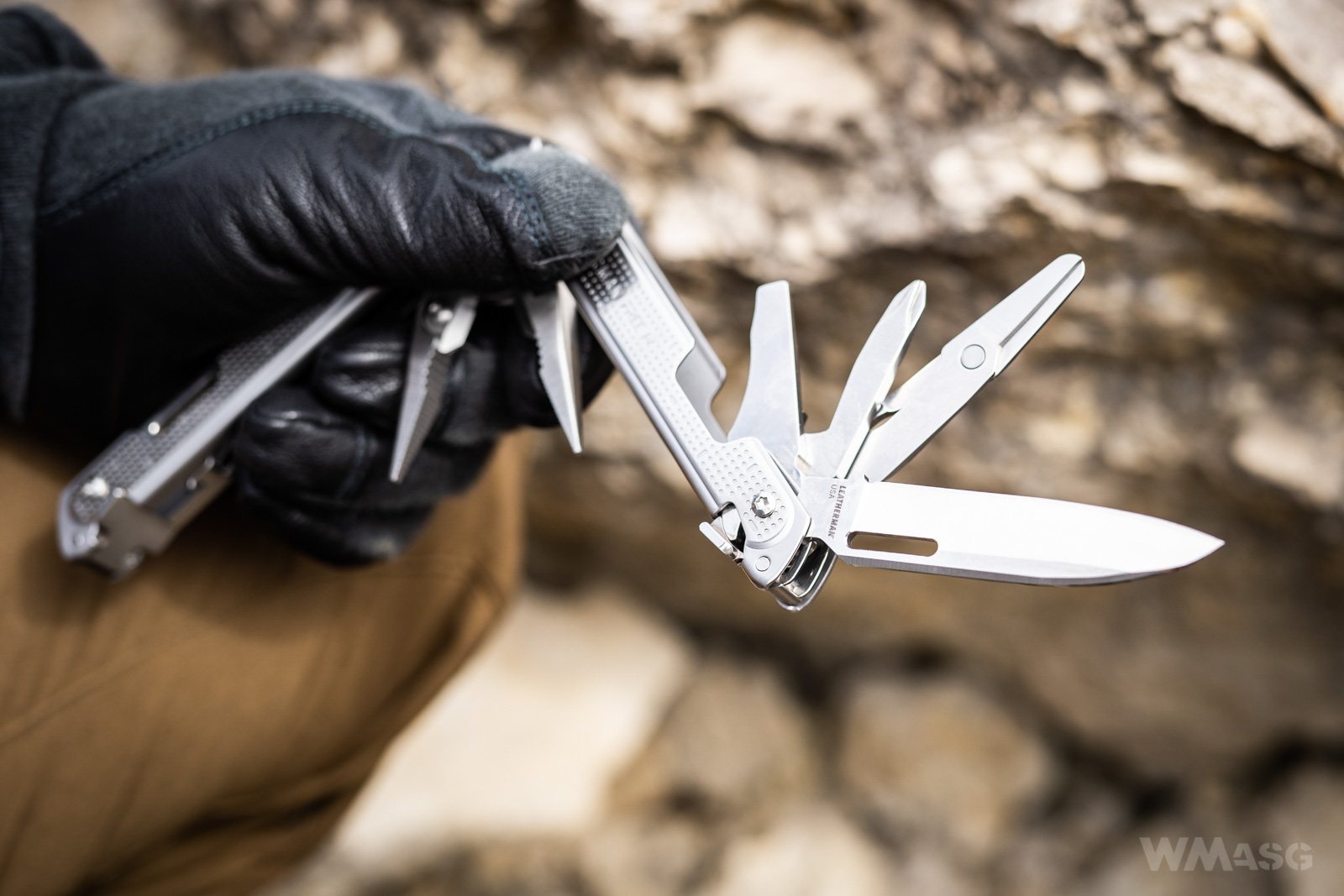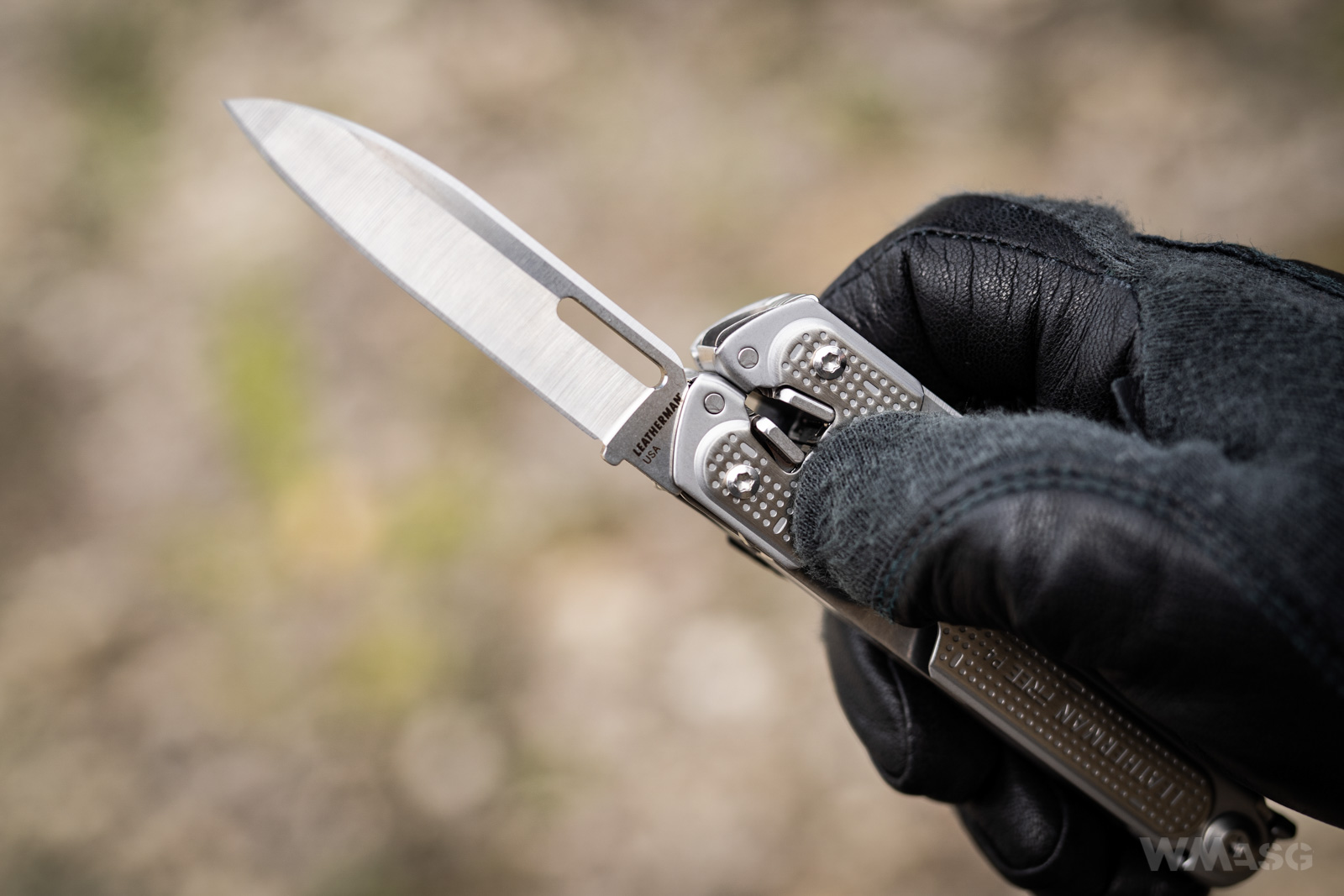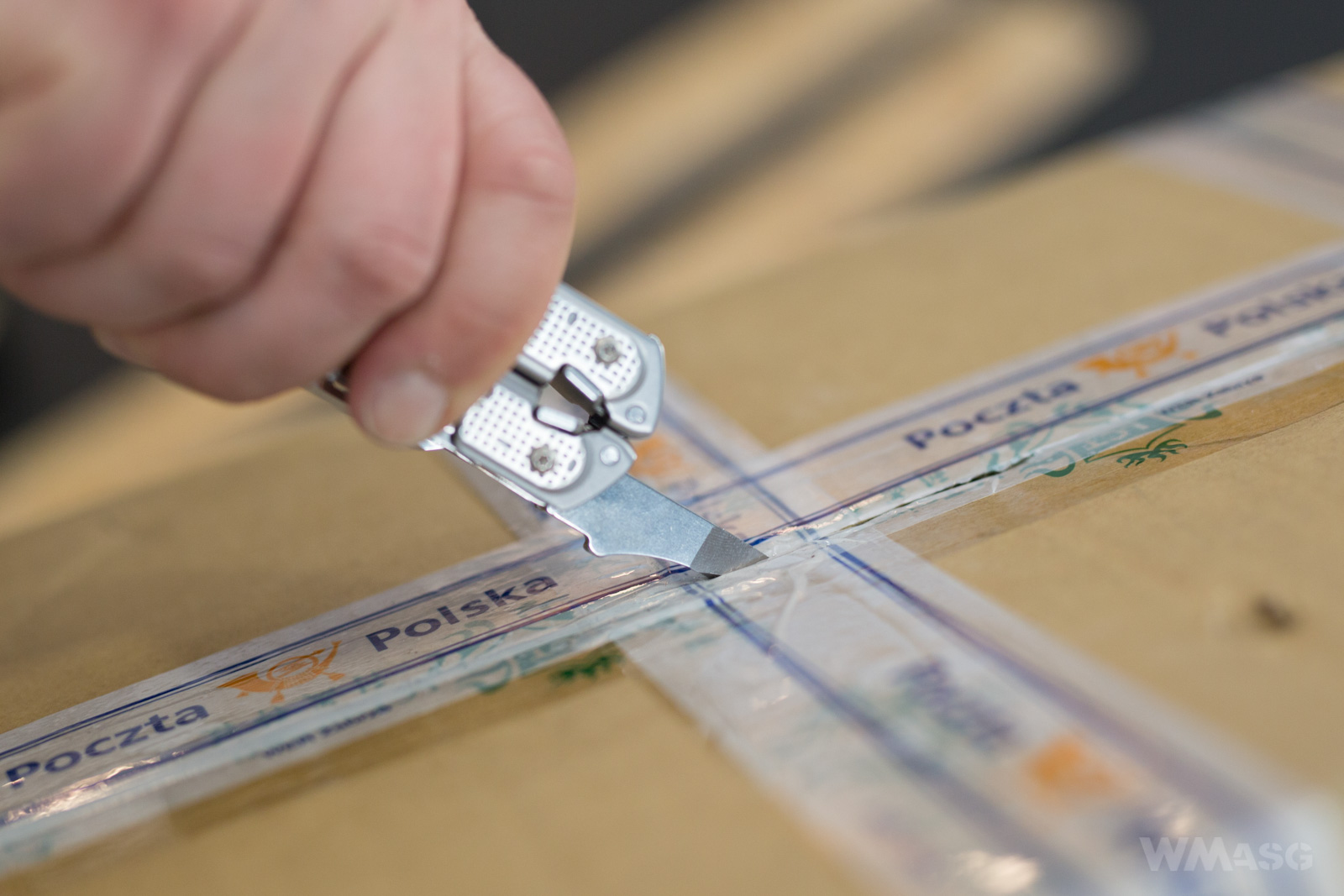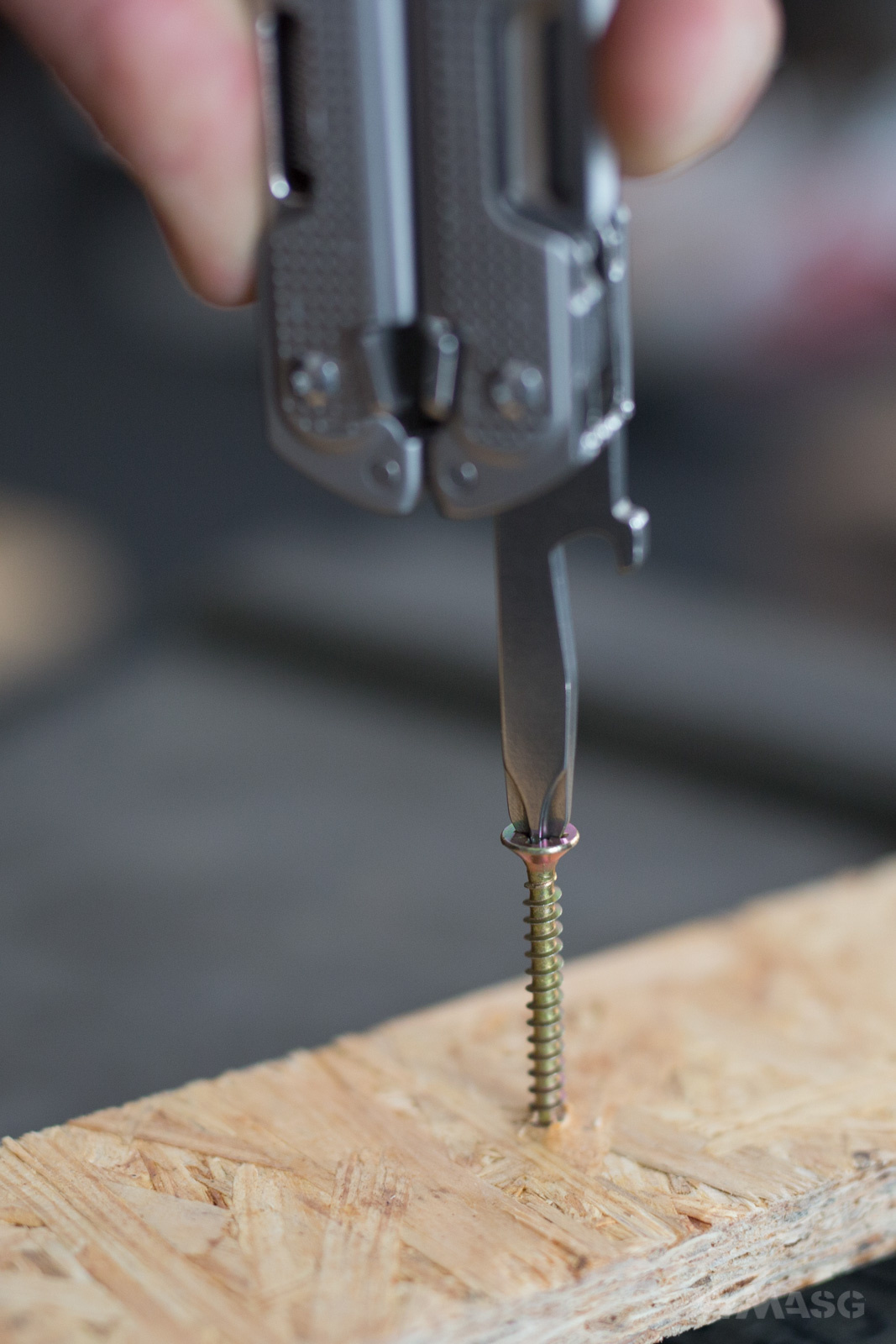 - a smooth blade,
- a Philips screwdriver (cross), bottle opener,
- a mini-crowbar, blade for safe opening of packages,
- scissors,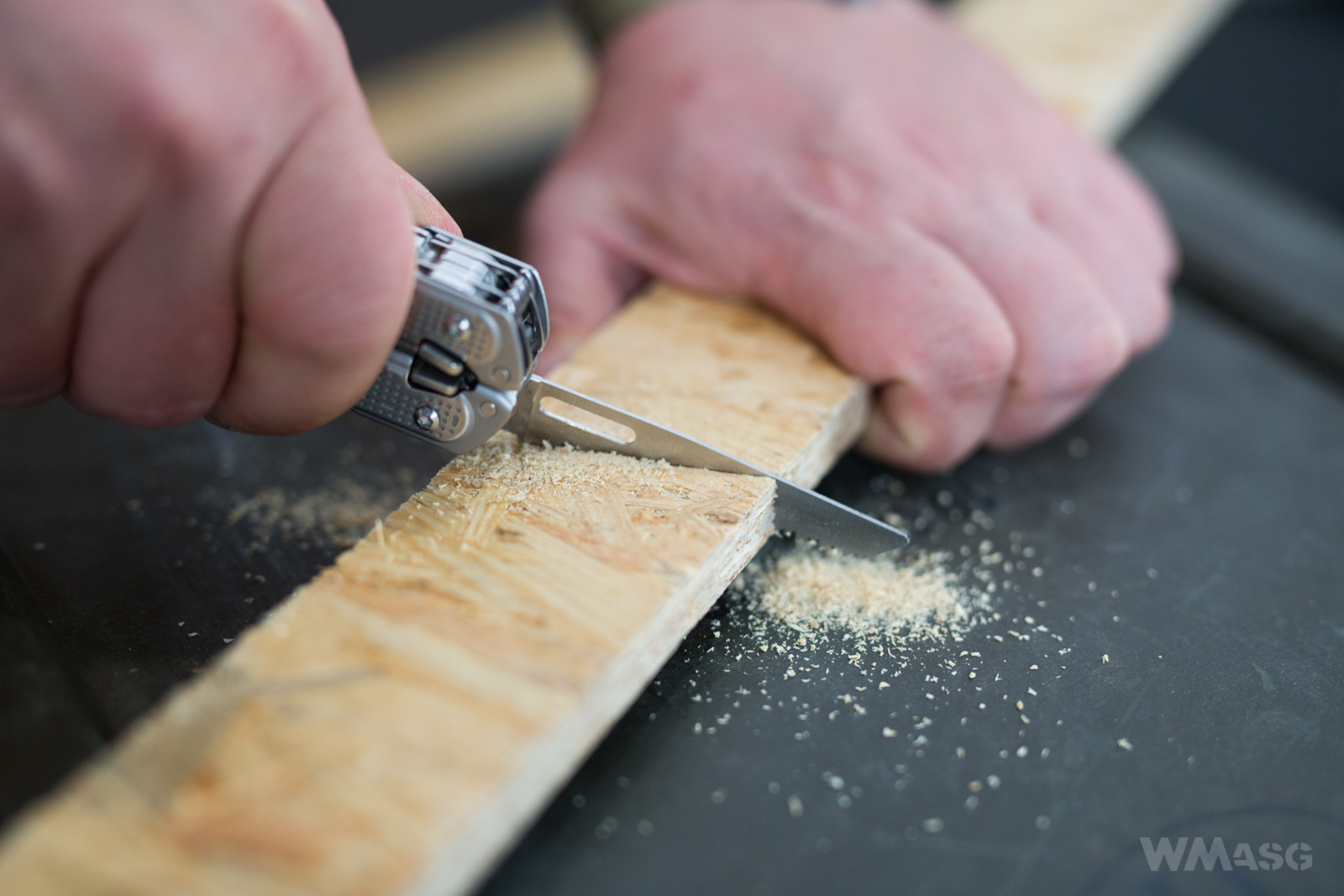 The arm with serrated blade includes:

- a serrated blade,
- a small flat screwdriver, a file for metal and wood,
- a medium sized screwdriver, an insulation stripping tool, a measuring tape (mm and inches)
- a very small flat screwdriver, a crochet hook,
- a can opener.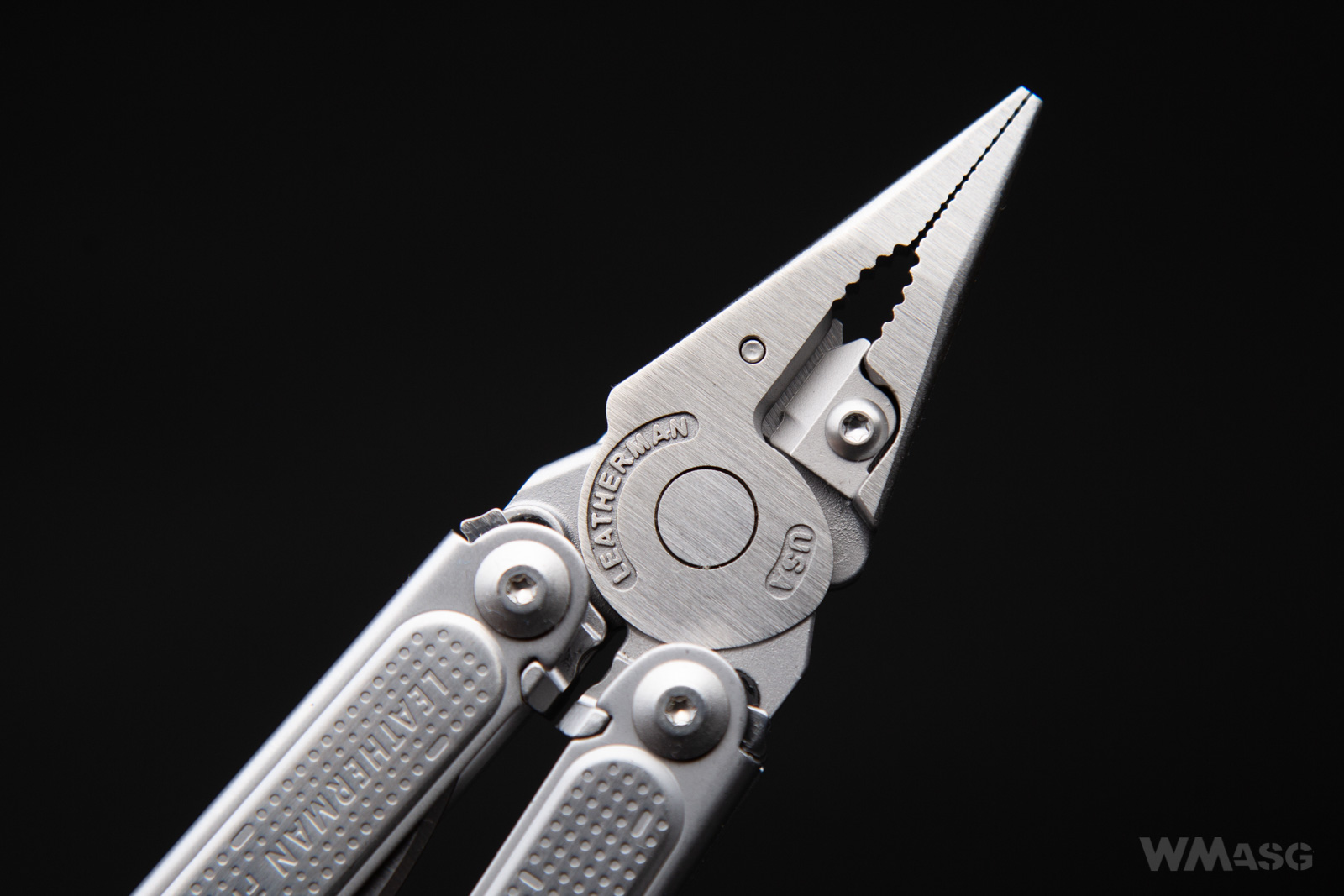 In addition, the pliers consist of:

- flatbed pliers,
- standard pliers,
- a thick wire cutter,
- a thin wire cutter,
- a cable clamp,


The FREE P4 set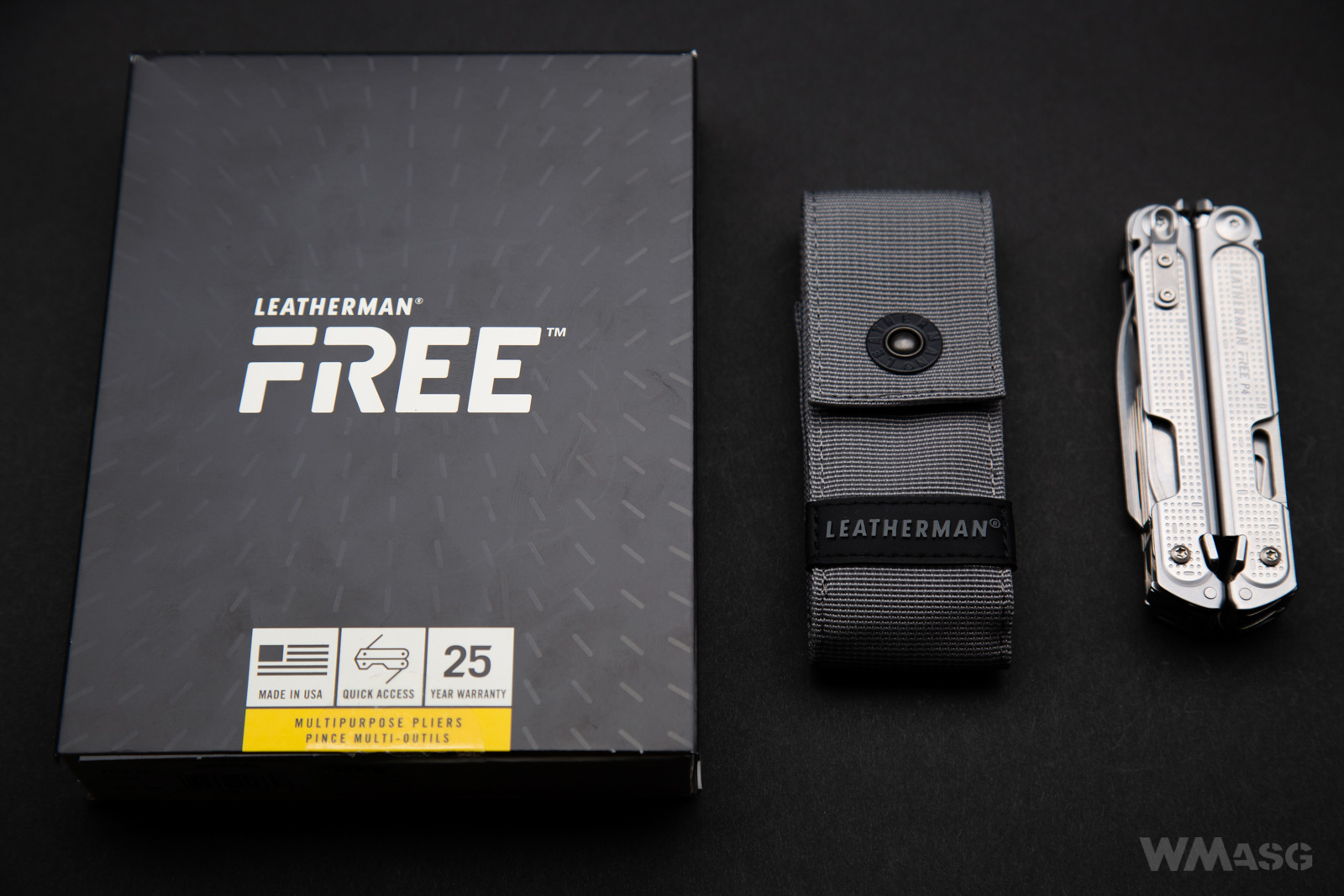 We get the latest Leatherman tool in an aesthetic black and white cardboard packaging, different than the classic Leatherman multi-tools. Located in the middle of the front part, the big FREE inscription is surrounded by lines reminiscent of a magnetic field. From the printed accessories, we only get a quick instruction manual describing new solutions used in the P line and that's it. The FREE P4 itself is sealed in a gray nylon pouch with a dot type fastener. Unfortunately, this version does not have a clip, and instead has a loop for attaching a line to prevent the tool from being lost.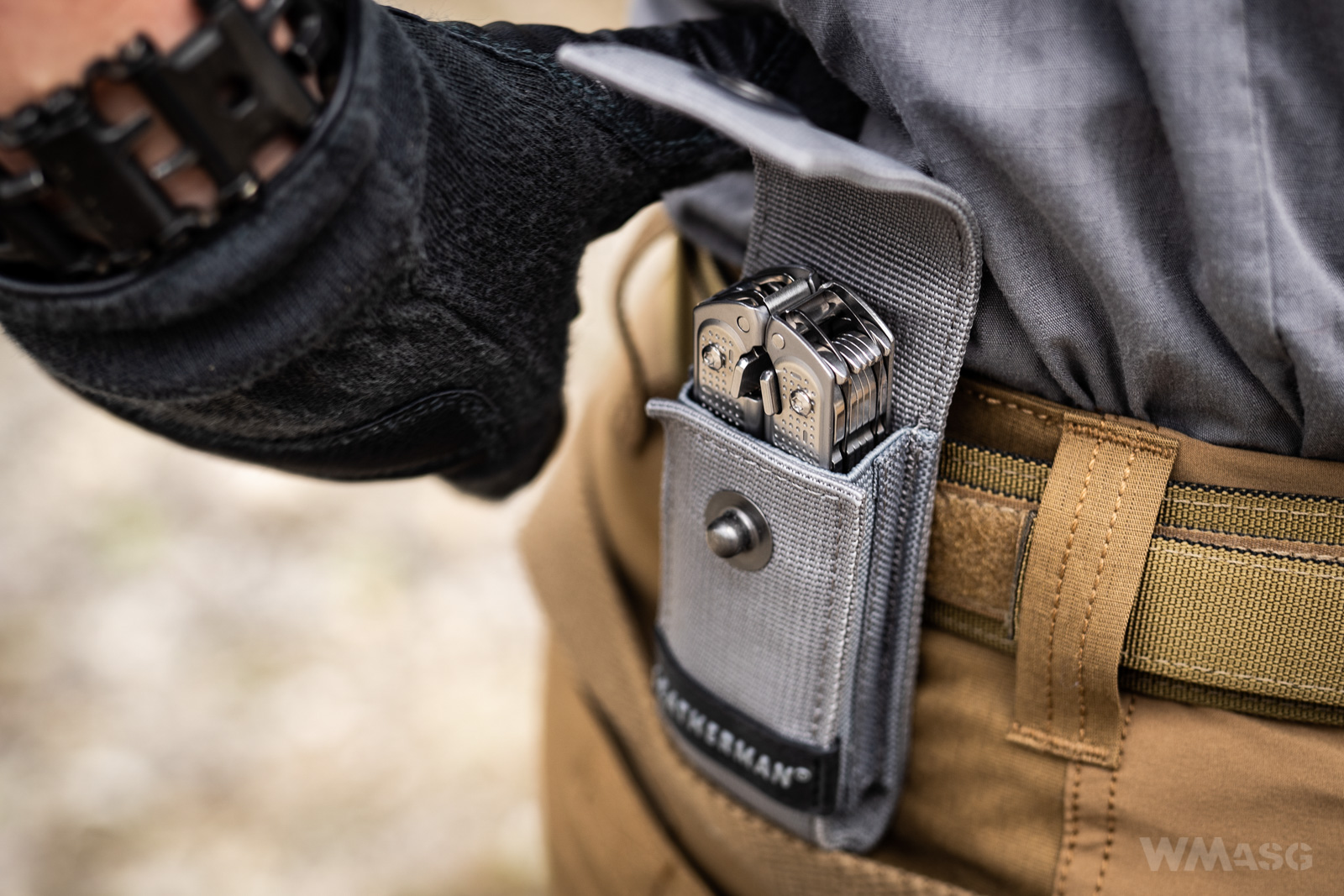 Technical data
<table class="fr-dashed-borders fr-alternate-rows" style="width: 48%; margin-right: calc(52%);"><tbody><tr><td style="width: 50%; background-color: rgb(97, 189, 109); text-align: right;">
Length (folded) 
</td><td style="width: 50%; background-color: rgb(97, 189, 109);">10.78 cm (4.25 in)
</td></tr><tr><td style="background-color: rgb(247, 218, 100); text-align: right;">
Weight 
</td><td style="background-color: rgb(247, 218, 100);">243.8 g (8.6 oz)
</td></tr><tr><td style="background-color: rgb(97, 189, 109); text-align: right;">
Length of the blade 
</td><td style="background-color: rgb(97, 189, 109);">7.02 cm (2.76 in)
</td></tr><tr><td style="background-color: rgb(247, 218, 100); text-align: right;">
Material 
</td><td style="background-color: rgb(247, 218, 100);">420HC (blade), Stainless steel
</td></tr></tbody></table>
List of available functions (by Leatherman):
1. Needlenose Pliers
2. Regular Pliers
3. Premium Replaceable Wire Cutters
4. Premium Replaceable Hard-wire Cutters
5. 420HC Knife
6. 420HC Serrated Knife
7. Spring-action Scissors
8. Saw
9. Pry Tool
10. Package Opener
11. Awl
12. Can Opener
13. Wire Stripper
14. Ruler (1.41 in | 25 mm)
15. Wood / Metal File
16. Bottle Opener
17. Electrical Crimper
18. Phillips Screwdriver
19. Medium Screwdriver
20. Small Screwdriver
21. Extra-small Screwdriver
My opinion on Leatherman FREE P4
I have to admit something. During the presentation of the FREE series at the last IWA 2019 fair in Nuremberg, the "wow" effect was just not there. I do not know why. However, when I had the opportunity to get to know the FREE P4 from close up and spend some time with it, it's a completely different story. Does the new Leatherman met my expectations? Yes. The impression of holding the FREE P4 in my hands and manipulating it is pure pleasure. It's a multi-tool combining a classic design, elegance, and, at the same time, it's still a solid working tool. It will of use to many people and in many places. Everything is precise, there are no annoying bigger clearances known from some other models. Such an elegant "ruffian". It looks good and at the same time has the "power".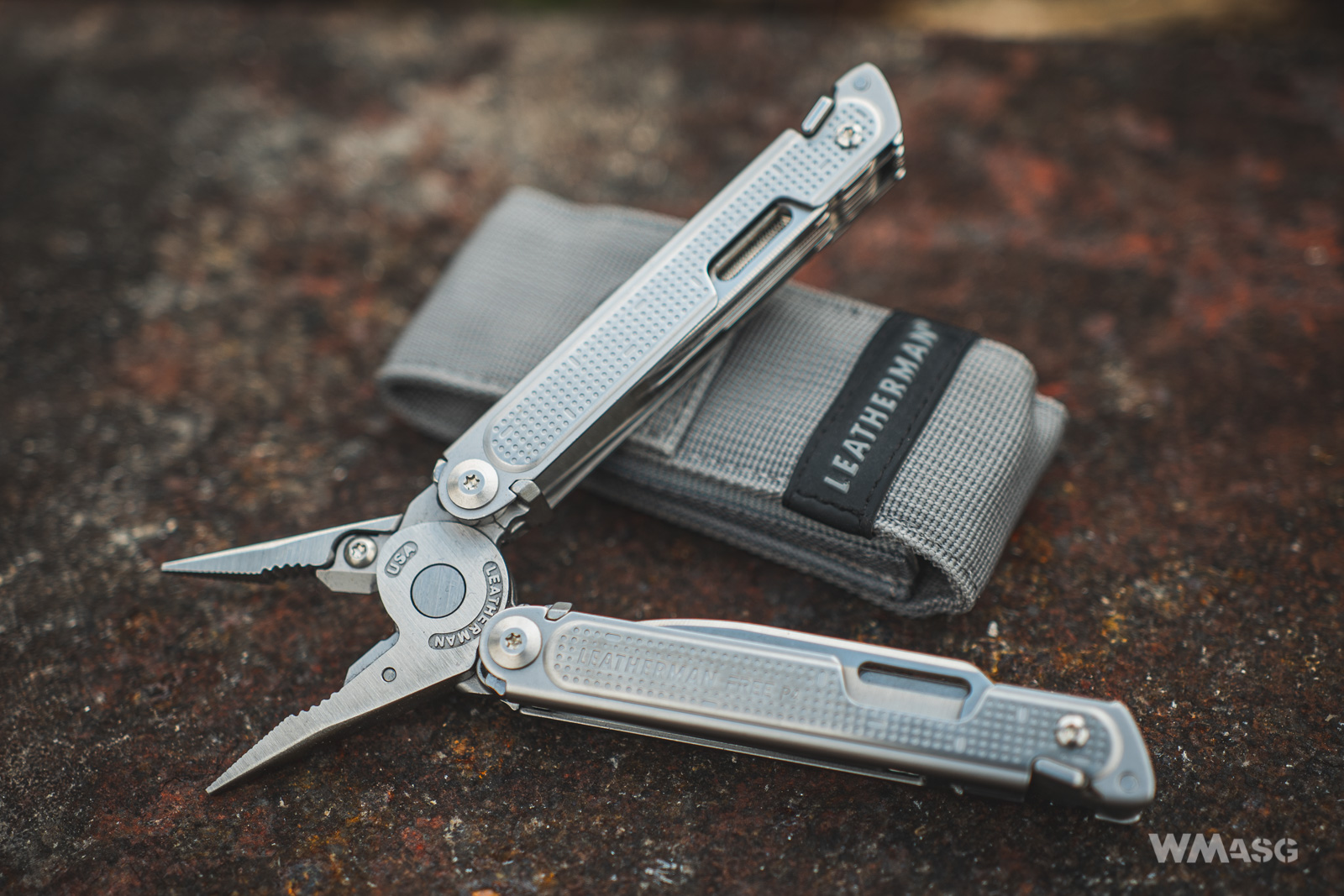 It almost ideal. Yet, for me, it lacks the the spring that pushes the pliers open and also the function of a micro hammer. I was also surprised by the lack of a clip in the set, present in a slightly less advanced P2 version. But that's just me nitpicking.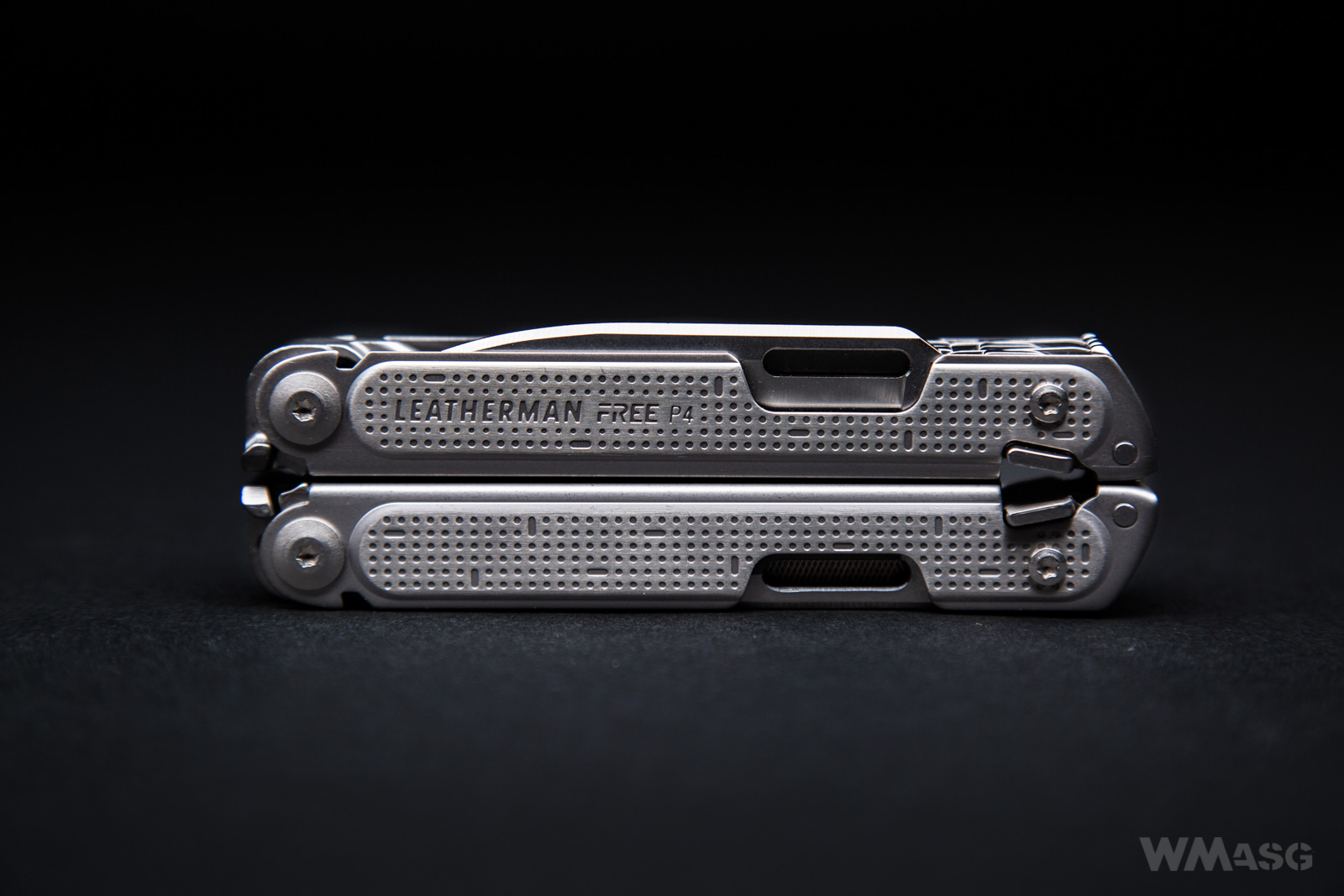 We would like to thank Militaria.pl for supplying us with the Leatherman FREE P4 for the purpose of making this review

Official Leatherman FREE P4 website:https://www.leatherman.com/free-p4-585.html
Leatherman FREE P4 website at Militaria.pl:https://mltr.pl/LTMFREEP4