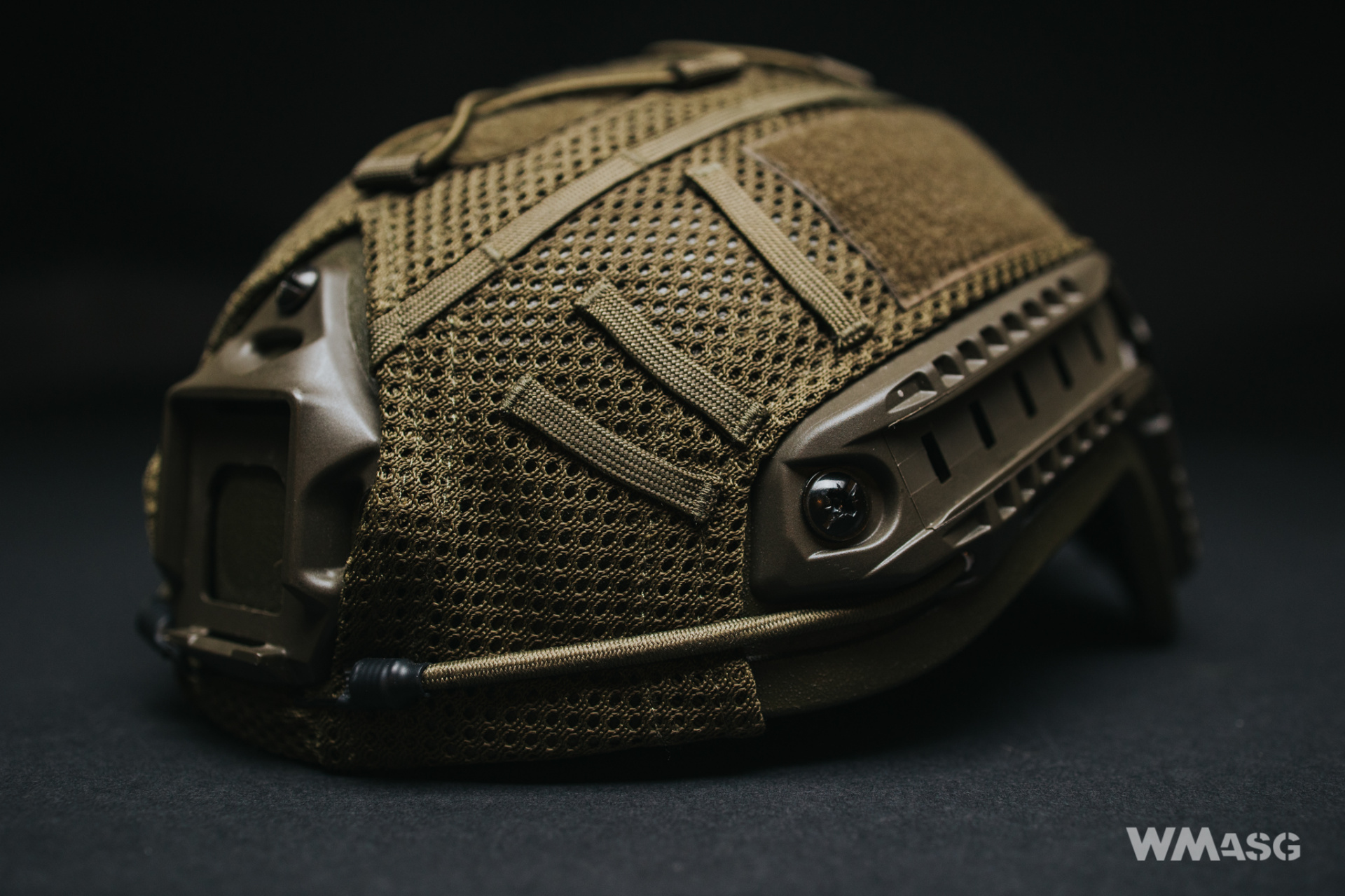 Introduction
Since Russia's full-scale invasion of Ukraine in February 22, 2022, the need for individual protection has skyrocketed. All possible stocks in stores and licensed companies were sold out at a rapid pace. Ukrainians, for their own needs, and Poles, who wanted to help (or to equip themselves just in case) stormed warehouses with any reserves of such goods. This huge demand did not go unnoticed among Polish manufacturers of individual equipment. For some time now, there has been a noticeable trend of releasing products on the civilian market, which until now has been associated with equipment meant for uniformed services. However, as the situation in Ukraine shows, an ordinary citizen should also have easy and relatively inexpensive access to gear such as a protective helmet providing some resistance to shelling and shrapnel. Of course, it should be noted that previously nothing stood in the way for people who wanted to buy such a helmet. PSO MASKPOL S.A. which is part of the Polish Armaments Group has made used of the current situation and has been making the Light Protective Helmet LHO-01 for some time now. In this text, we will introduce you to this product, so that you can decide for yourself whether it is worth paying extra and instead of a plastic replica have a real piece of kevlar at home.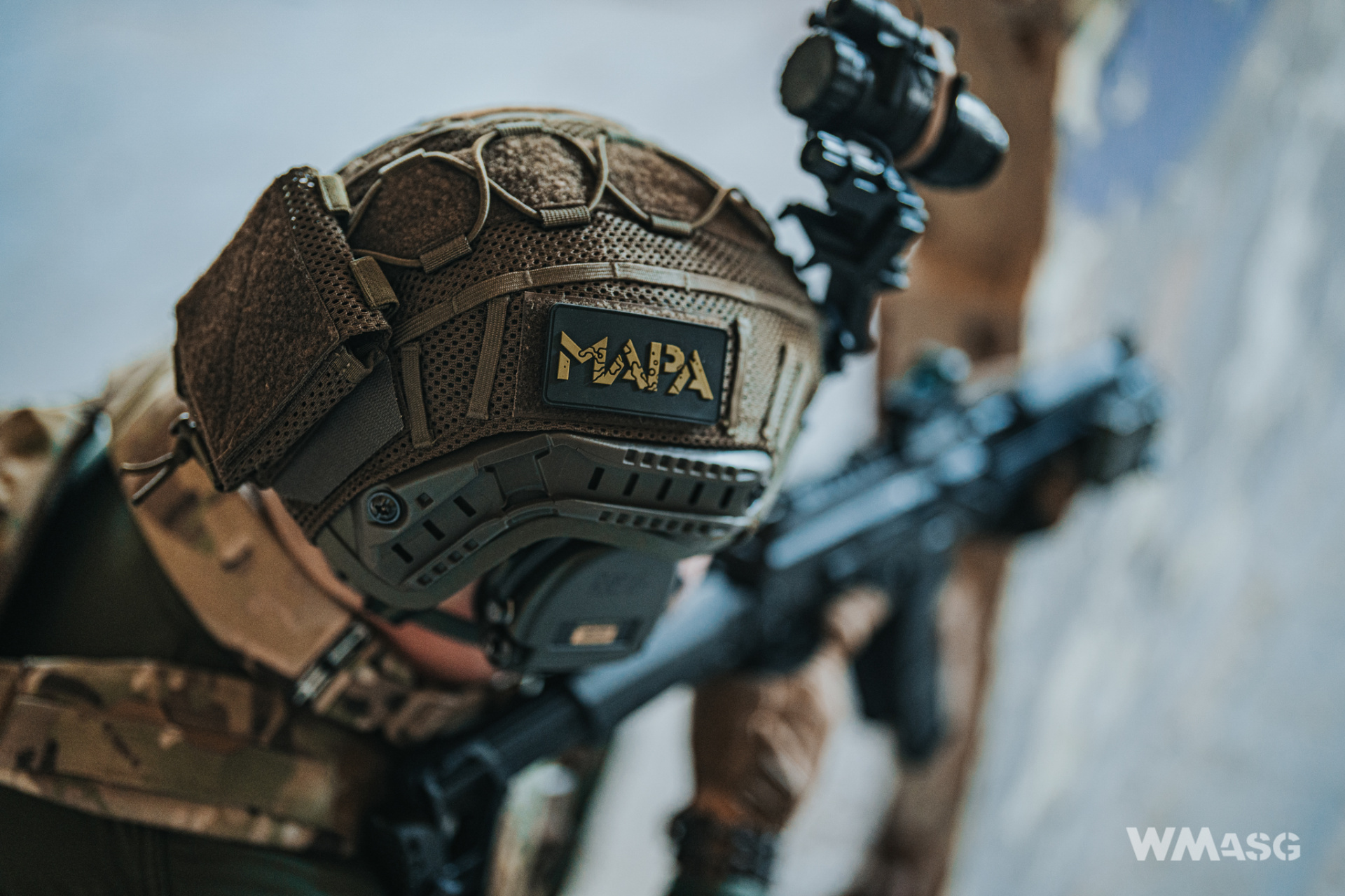 Intended use
Despite its appearance, which may indicate the it is meant for special forces units, the LHO-01 is intended for civilians. Due to its low resistance class, it will not be suitable for use during warfare. It is worth noting here that MASKPOL also offers the HP-05 bulletproof combat helmet with a ballistic resistance class at the level of the American NIJ IIIA standard. They are quite similar in construction and should be familiar to every soldier of the PolishTerritorial Defense Forces, where it is a standard piece of equipment there. However, it should be remembered, as I will make it clear, that the LHO-01 shell will not provide the same protection on the battlefield as the HP-05. So why was it decided to be made as a "high cut" (characteristic cuts that enter the outline of the helmet)? This is closely related to the more and more commonly used active hearing protection. We will discuss the validity of this solution and the author's view on it later in the article.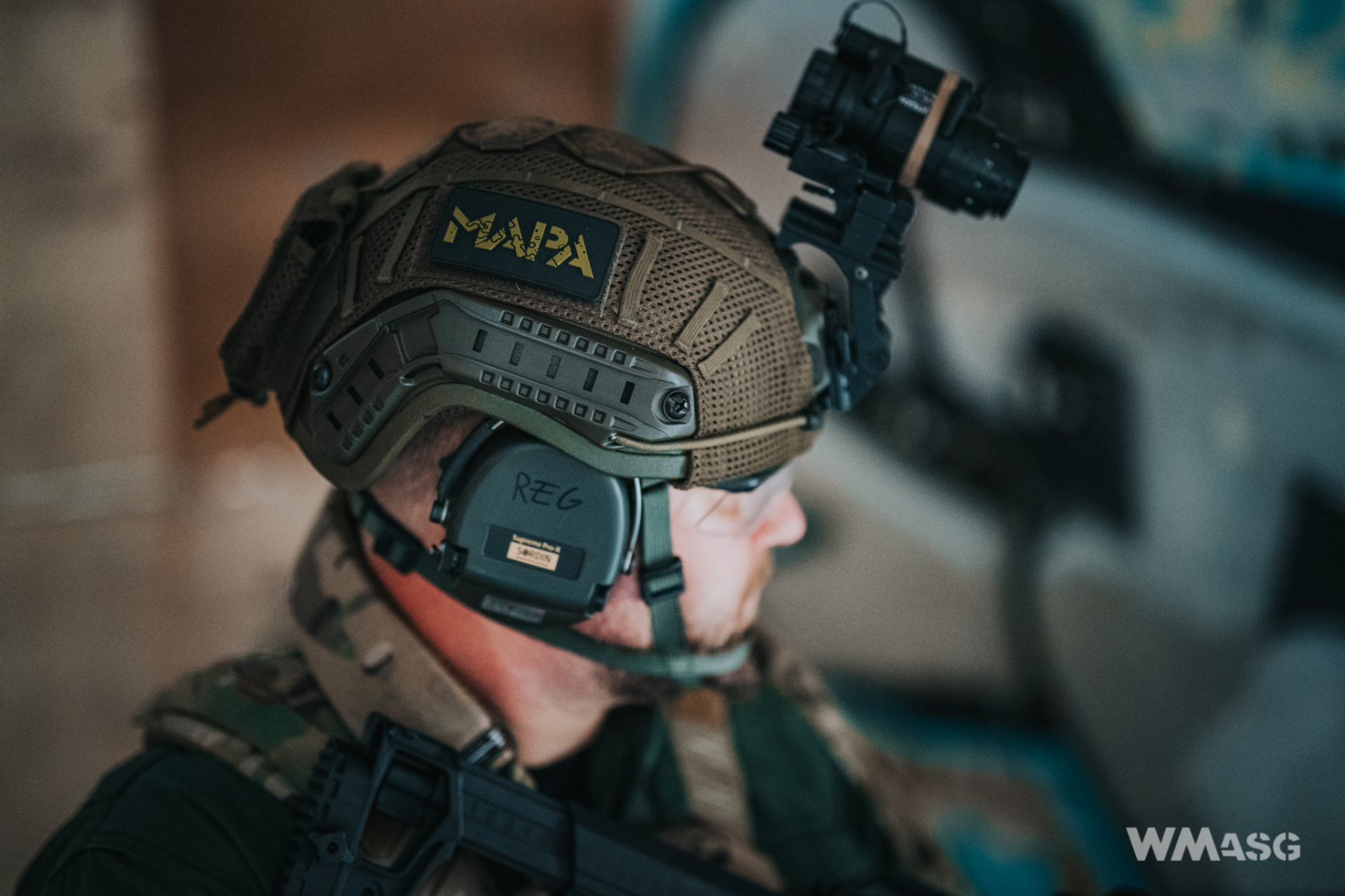 The LHO-01 kit
For a product intended for "ordinary civilians", the complete set offers quite a lot:
A full shell
A retention system
Accessory rails
A set of comfort pads
A night vision mount
The "BOA" smooth adjustment mechanism
A helmet cover (sold separately)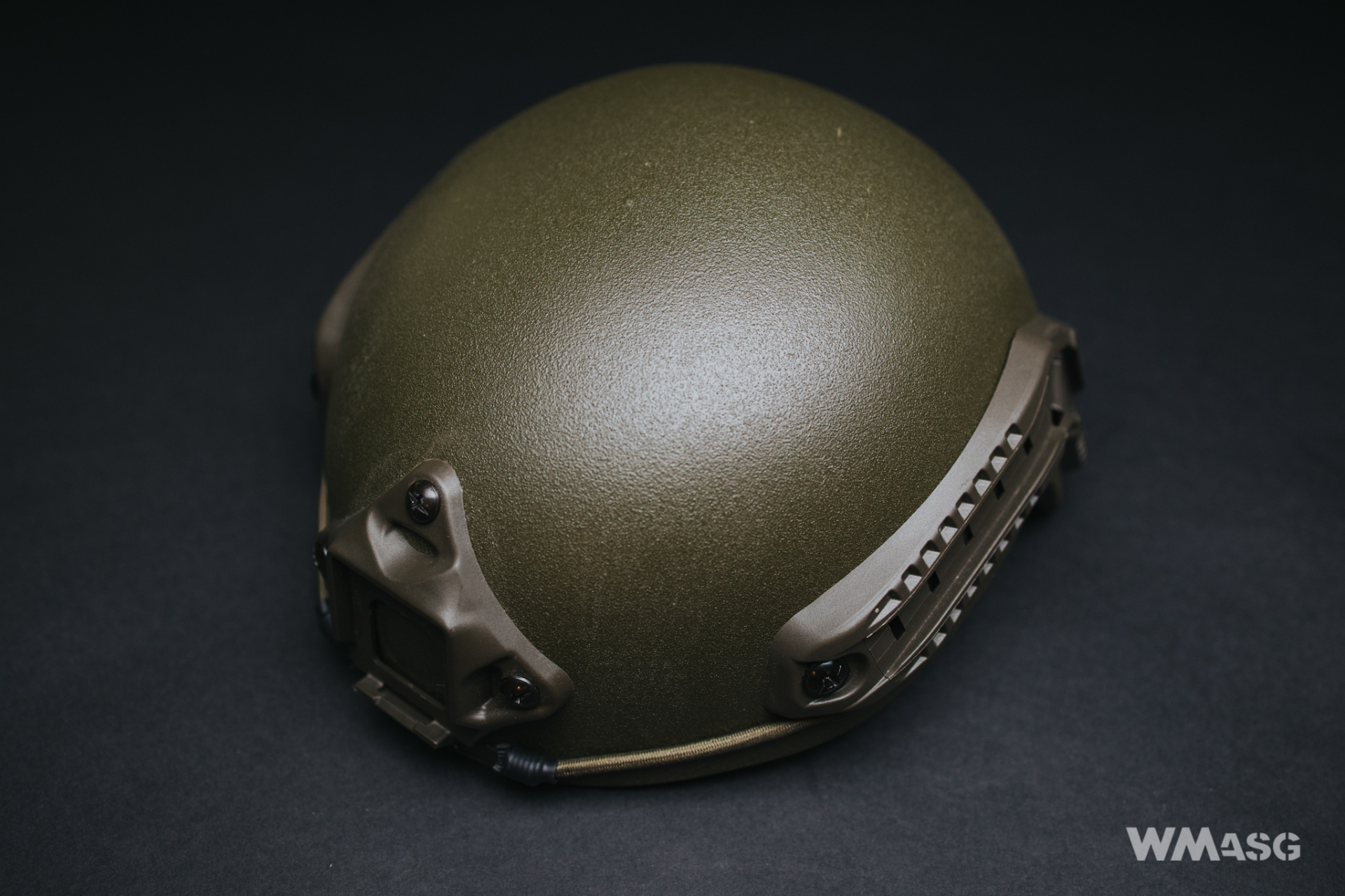 Technical details
The ballistic shell is made of aramid, and the edges are finished with an edge band. For the uninitiated, aramid is what is commonly known as kevlar. Of course, this is a major simplification and we could expand on the types of textile polyamides here, but let's leave that for a separate article.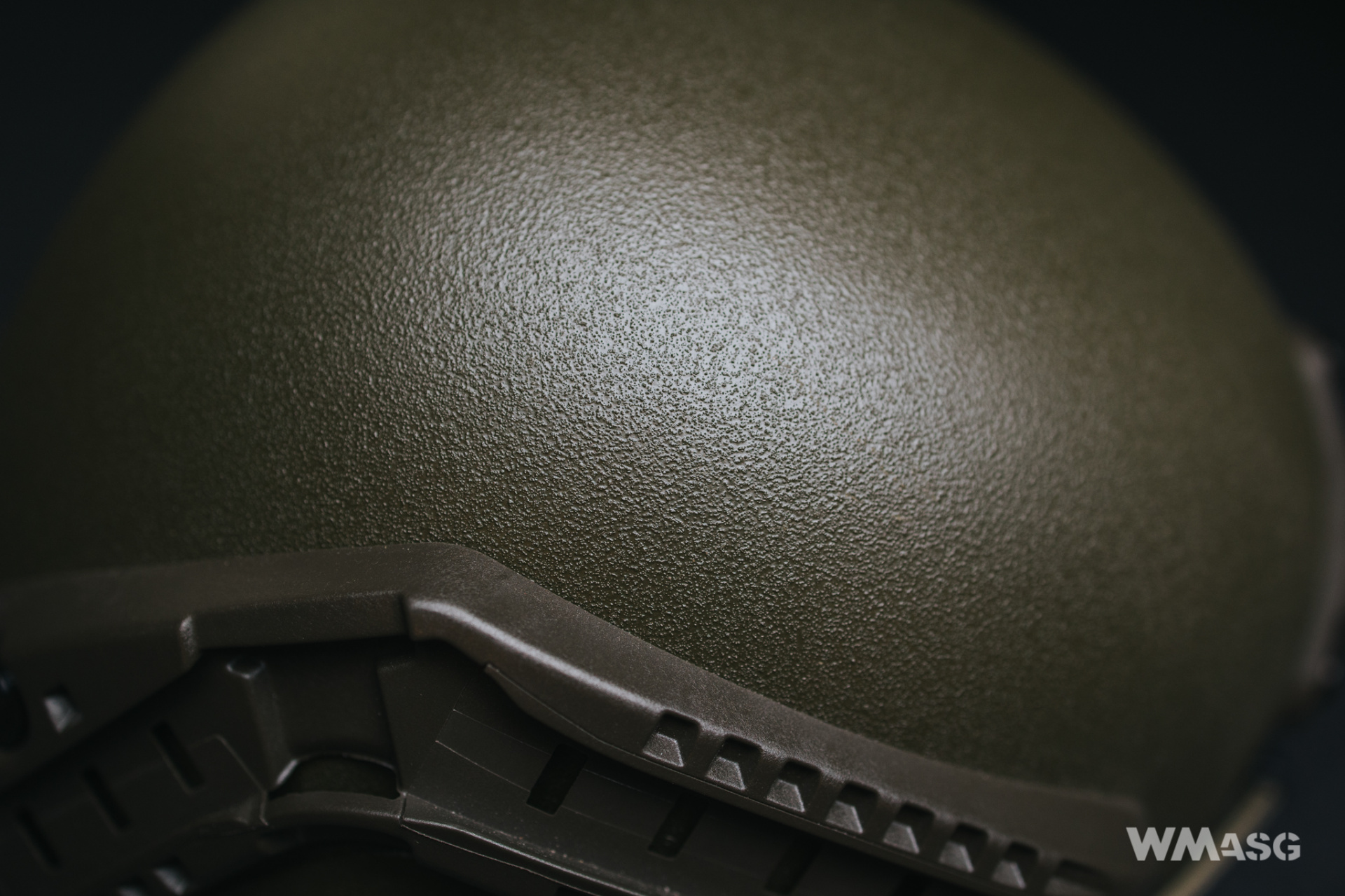 Focusing on the shape of the shell, it has been formed in such a way as to provide the so-called "high cut". This particular shape is designed to leave plenty of room for active hearing protection to be used with the LHO-01. This is where the question of shrapnel protection could be asked. The experience from the aforementioned Ukraine-Russia conflict has shown that the majority of injuries are caused by shrapnel wounds caused by artillery fire. Therefore, it might seem reasonable to use protection with a larger surface. On the one hand, this is an argument with which it is difficult to argue, but other conclusions drawn from the same conflict show that hearing damage also significantly contributed to the list of many injuries that prevented soldiers from fighting. Over the years we have seen many combinations in helmet designs aimed at creating a solution to this problem. For example, attachable armor pieces are quite popular.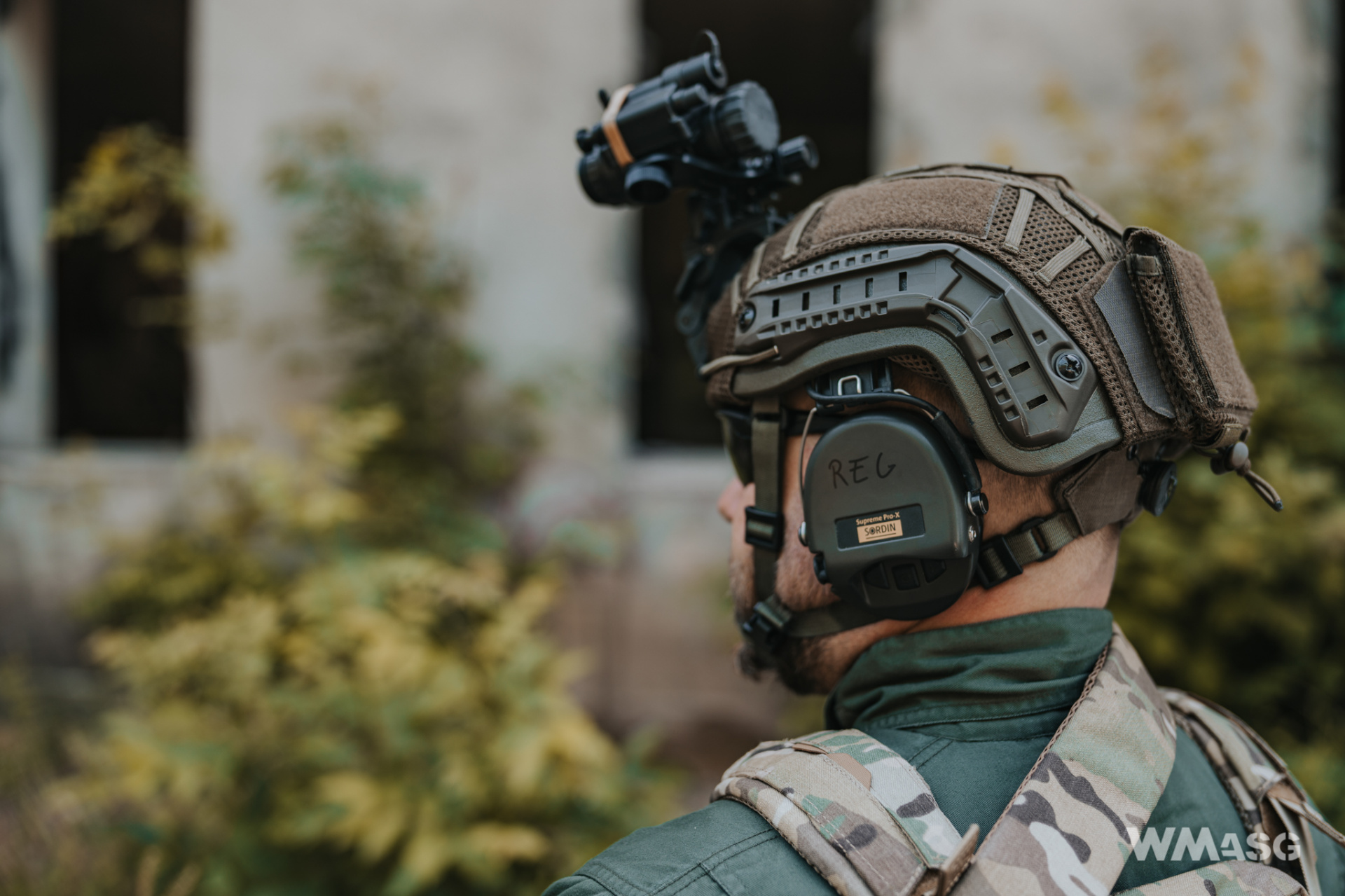 Generally speaking, I'd like to summarize the discussion on the merits of one over the other with a sentence: If the "high cut" doesn't suit you, you can always buy one that will provide a larger area of protection. Let me remind you that we are talking about a product generally available on the civilian market.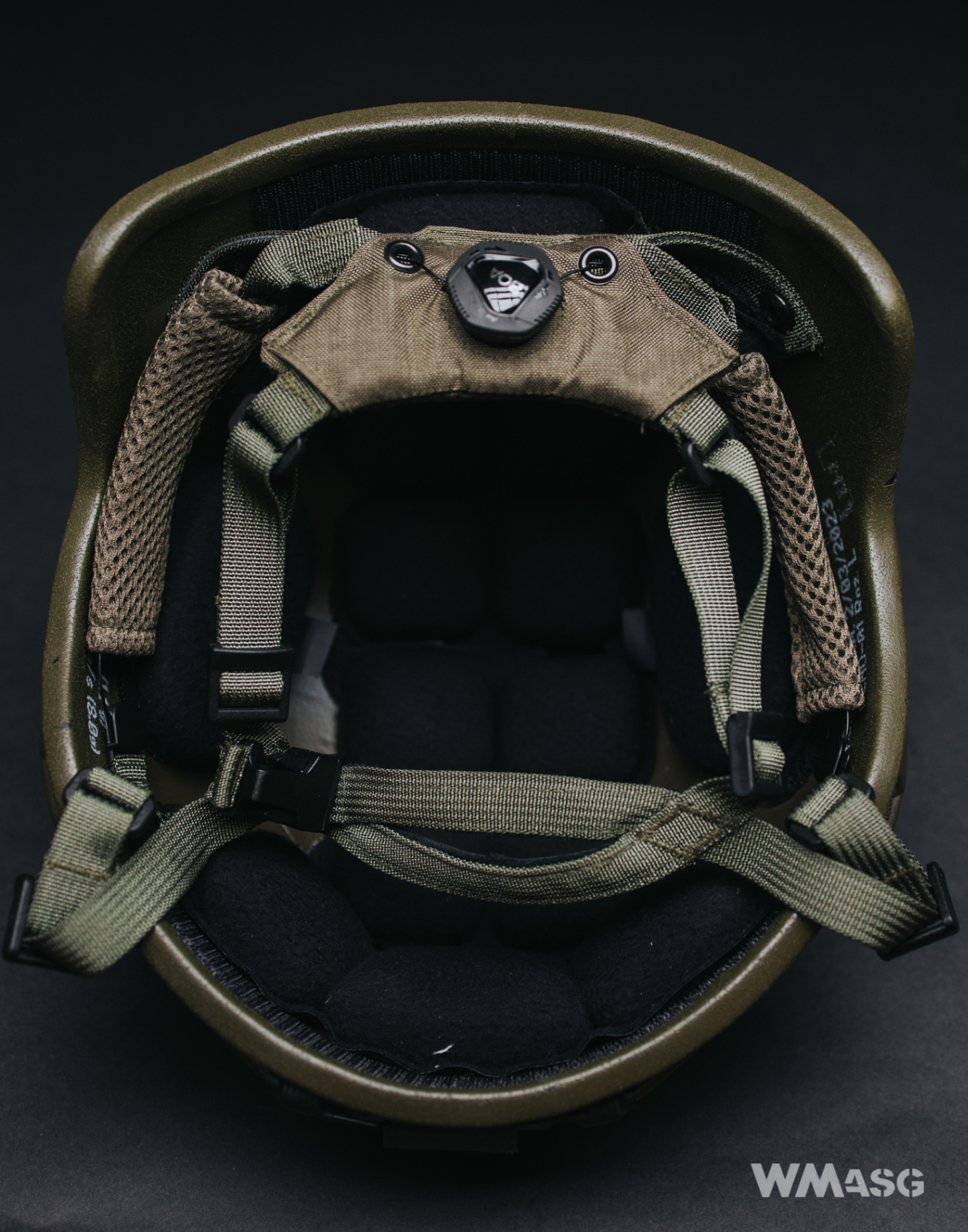 Following on from the hearing protectors, let's take a look at the retention system. It is four-point one and is made of a non-abrassive tape. In the place where it connects to form the chin strap, it has been well stitched together with as many as 4 bar tacks. This will definitely prevent the tapes from disconnecting in this place. However, what seems strange is that in the place where there the quick-release buckle is placed, there is no bar tack.
Although the load is carried by the tape, the only thing holding the buckle in place is a single thread of stitching that holds the soft leather. It is designed to prevent the tape from irritating the user and, at the same time, prevents excessive unpleasant squeezing of the chin, while adding a bit of softness. It is surprising that one bar tack was spared here, when there are four of them on the opposite side. Finally, I would like to point out that even if the thread breaks, it will not hinder the ergonomics. The part will still fulfill its function, although it may result in tearing off the sewn on layer of leather. However, the plastic elements used for adjustment deserve praise. They retain in the position set by the user well and, more importantly, have a profile for a finger. It allows to intuitively feel the element you are looking for by touching it and easily pry it to adjust it even when wearing thick gloves. The quick-release buckle itself is also quite high despite its small size: thanks to this, it is easy to handle. Returning to hearing protection, the straps are screwed into the shell in such a way that their spacing allows for comfortable and obstruction-free use of active hearing protectors (our earlier publications on hearing protection can be found here).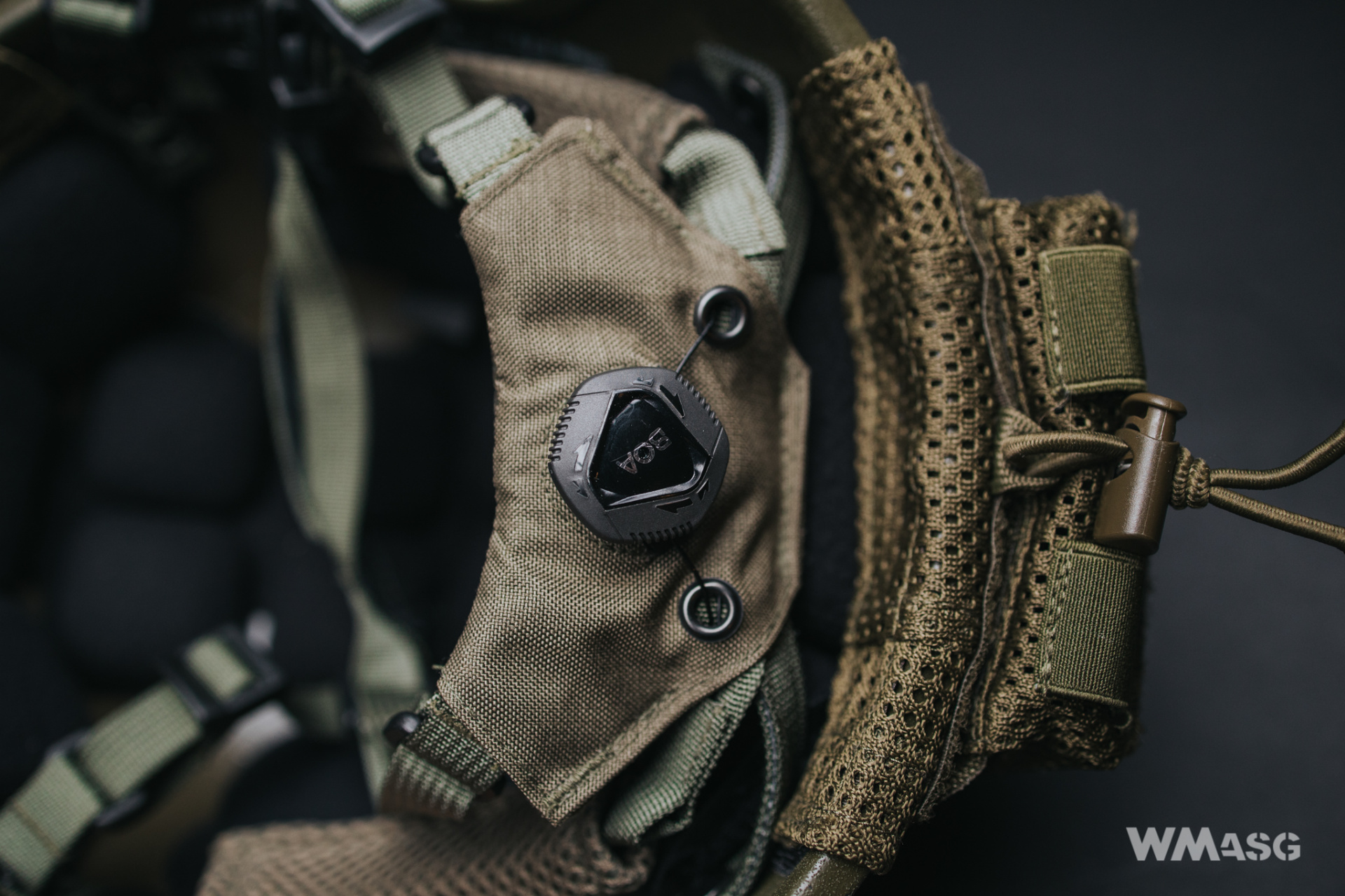 The "BOA" smooth adjustment system
A part of the retention system is the so-called "BOA" and deserves its own separate paragraph. This solution can already be found in the modernized Polish wz.2005 helmets, or the aforementioned HP-05 helmets. This system is nothing more than a knob adjusting the pressure of the straps to the circumference of the head. This is done with the help of durable lines that are pulled using the said knob. Thanks to this, one can adjust their length to individual needs, ensuring a perfect fit. The side straps and the larger element located on the nape from the skin side are lined with good quality spacer mesh. The part housing the mechanism is additionally made of durable Cordura. Medics will definitely appreciate the quick release feature present. It is done simply by pulling the knob towards you to release the latch thus allowing the helmet to be removed more easily. Similar solutions have been known for years on the civilian market in protective helmets. So you don't have to worry that qualified medical services won't know how to deal with it.
The important information is that the shell is the same for all sizes. Thus, different sizes of shock-absorbing pads, extensive adjustment of the retention system and the BOA system are used to fit the head circumference.
Size chart includes recommended pads numbers.
1 = size L for head circumference over 58 cm
2 = size M for a head circumference of 56 to 58 cm
3 = size S for a head circumference of 54 to 56 cm
4 = size XS for head circumference up to 54 cm

If you are wondering what size you were issued from the warehouse, it is worth taking a look at the table above, because it corresponds with other helmets made by MASKPOL S.A.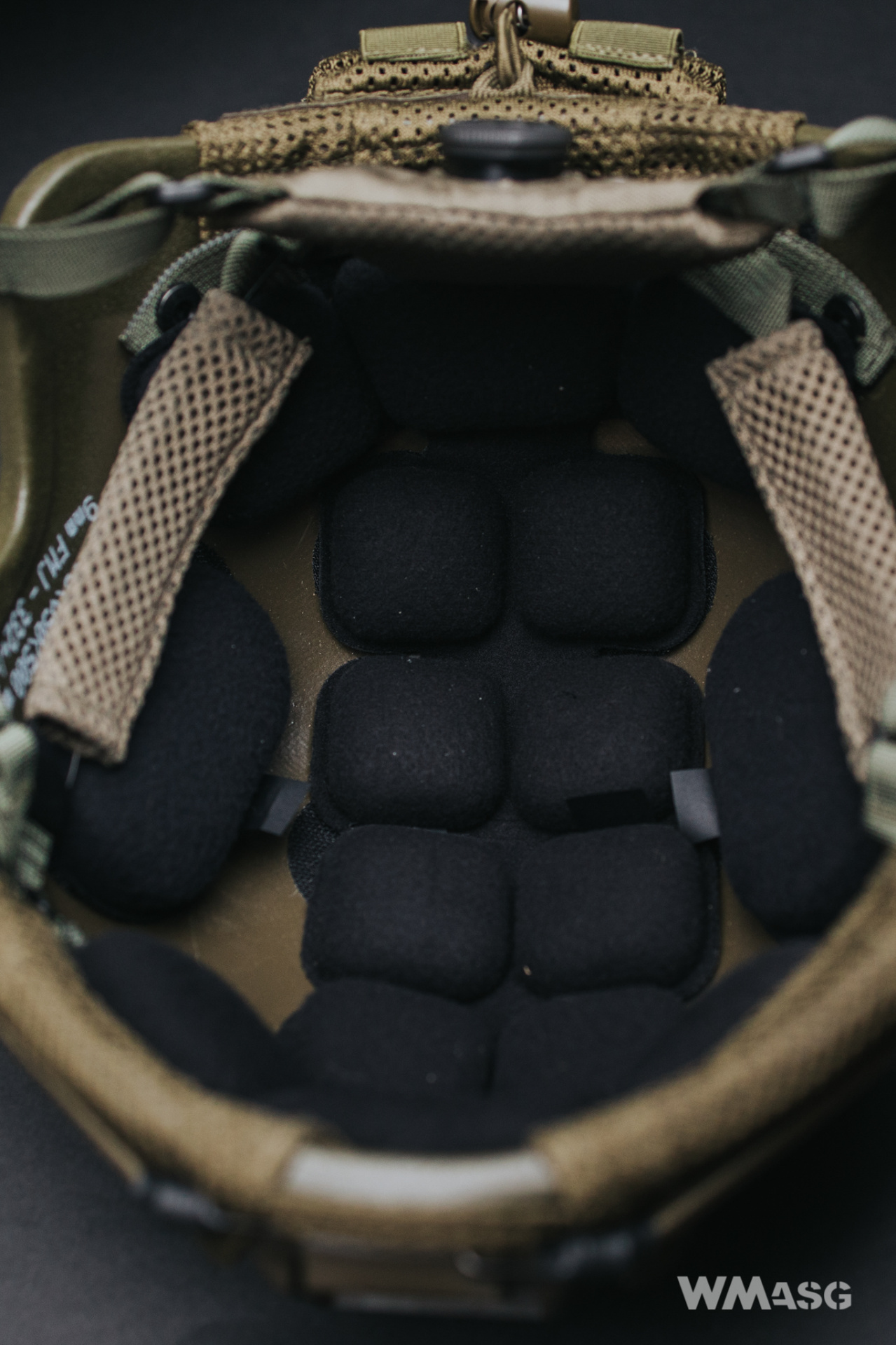 Shock-absorbing pads
The whole set consists of four elements. Two small side pads that can be removed when using active hearing protectors. The next two, on the other hand, consist of interconnected pads forming an element with a larger surface located in the front and rear parts of the shell. This can cause problems when using headphones with a thick headband. There is simply no way to arrange these large pads so that band can fit between them. The solution is quite simple, but it requires modification in the structure of this part. The material that connects the pads need to be cut with the use of a thermal knife. This is doable and should not result in the material fraying as the soft fabric is glued to something that looks like PVC or Hypalon (it might be even welded, but I am not sure). All in all, it's a good product and it would be nice to be able to buy it as an accessory. Not only would it give the opportunity to improve a certain part of the helmets on one's own, but an additional replacement when the other is drying after washing would always come in handy.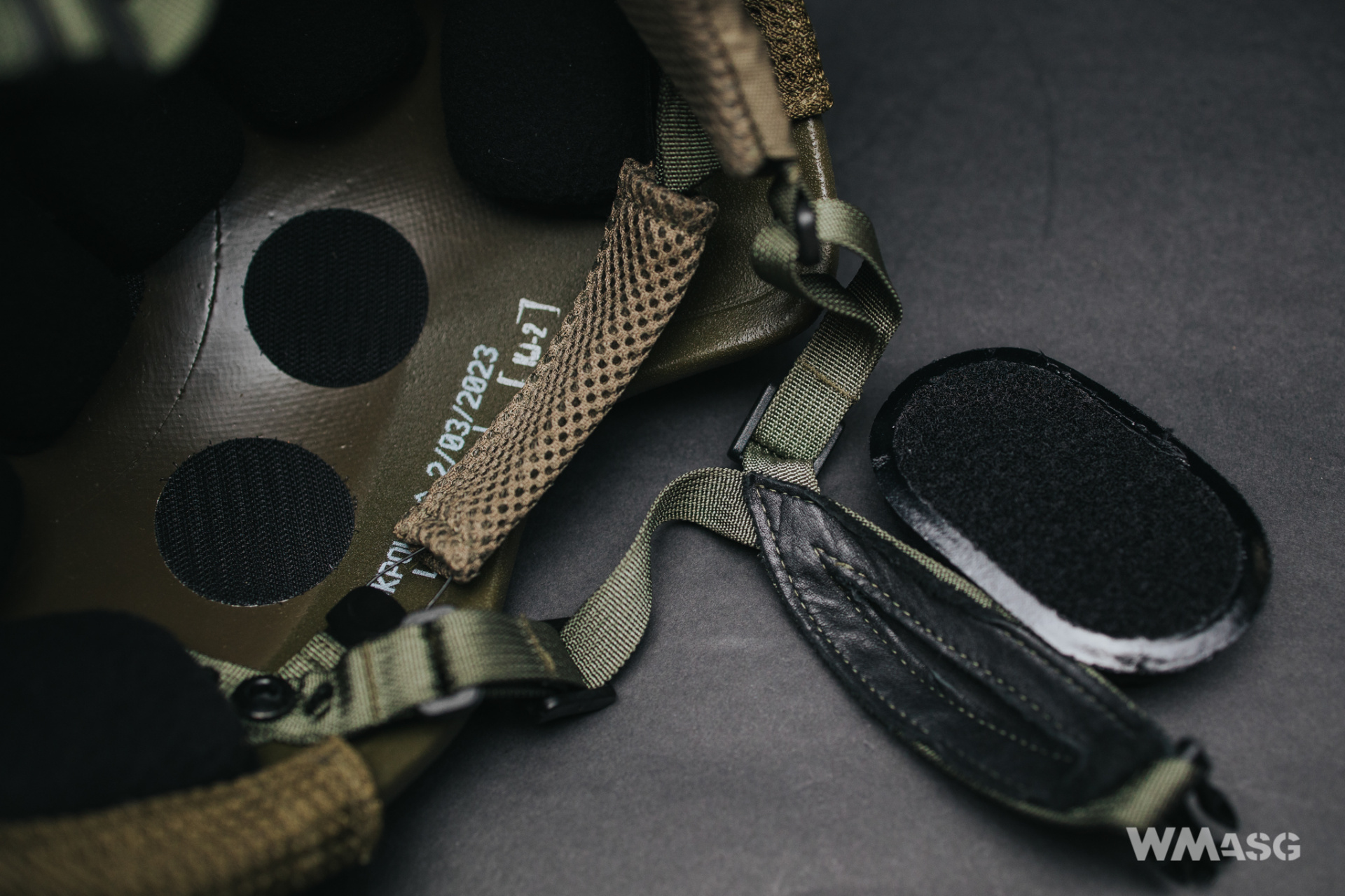 The rails
The inconvenience of the pads design when using hearing protectors can be completely avoided with the use of those that are attached to the rails. Thanks to the Weaver standard, commonly used in the case of helmet rails, we can attach the most popular accessory equipment. It is also worth paying attention to the cutout used to fasten the quick-release buckles. With the help of additional plastic elements, you can attach the band of anti-dust goggles directly to the helmet, as well as a flashlight or hearing protectors.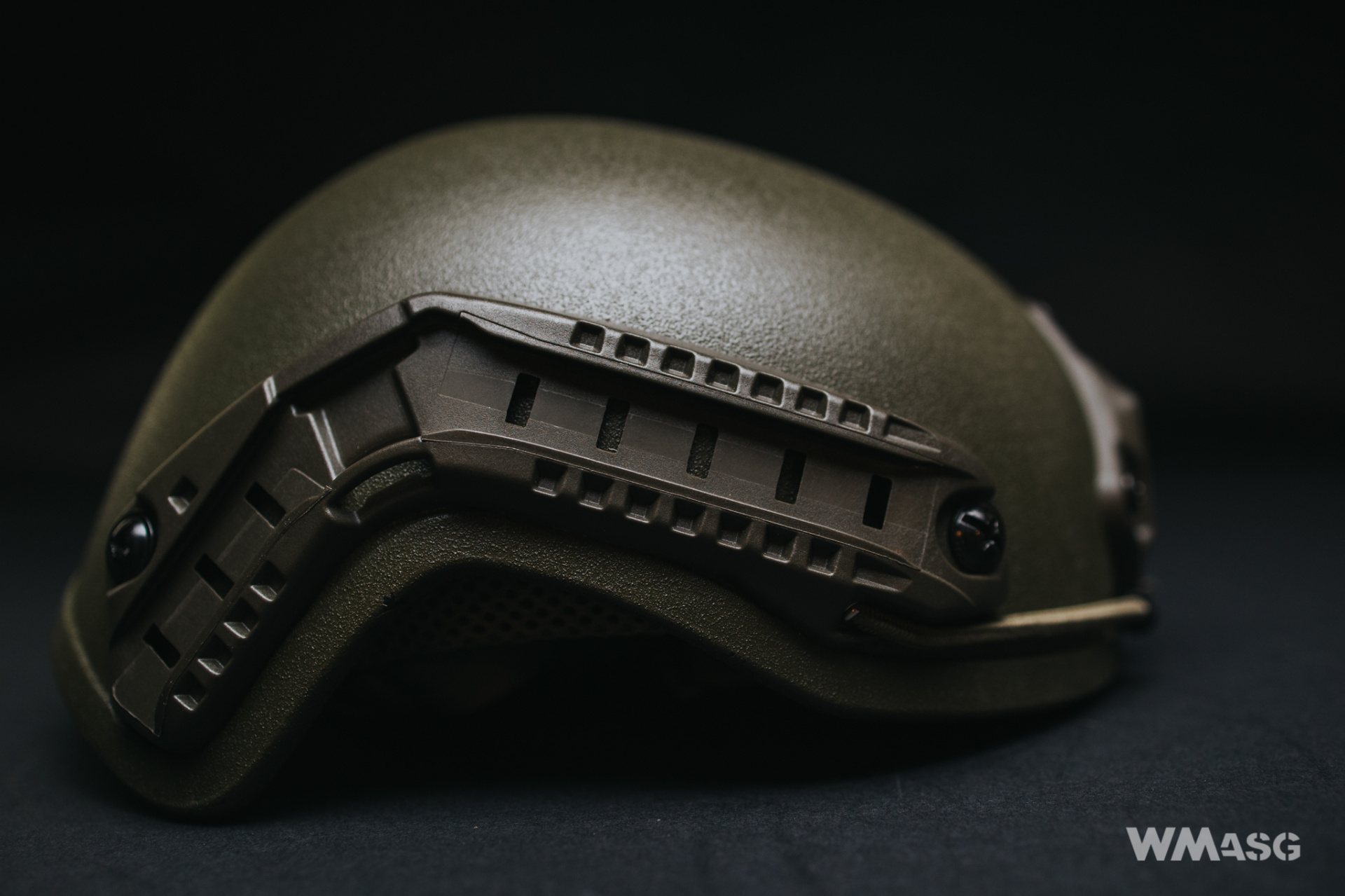 There is also a mount for a night vision mount and rubbers band holding it.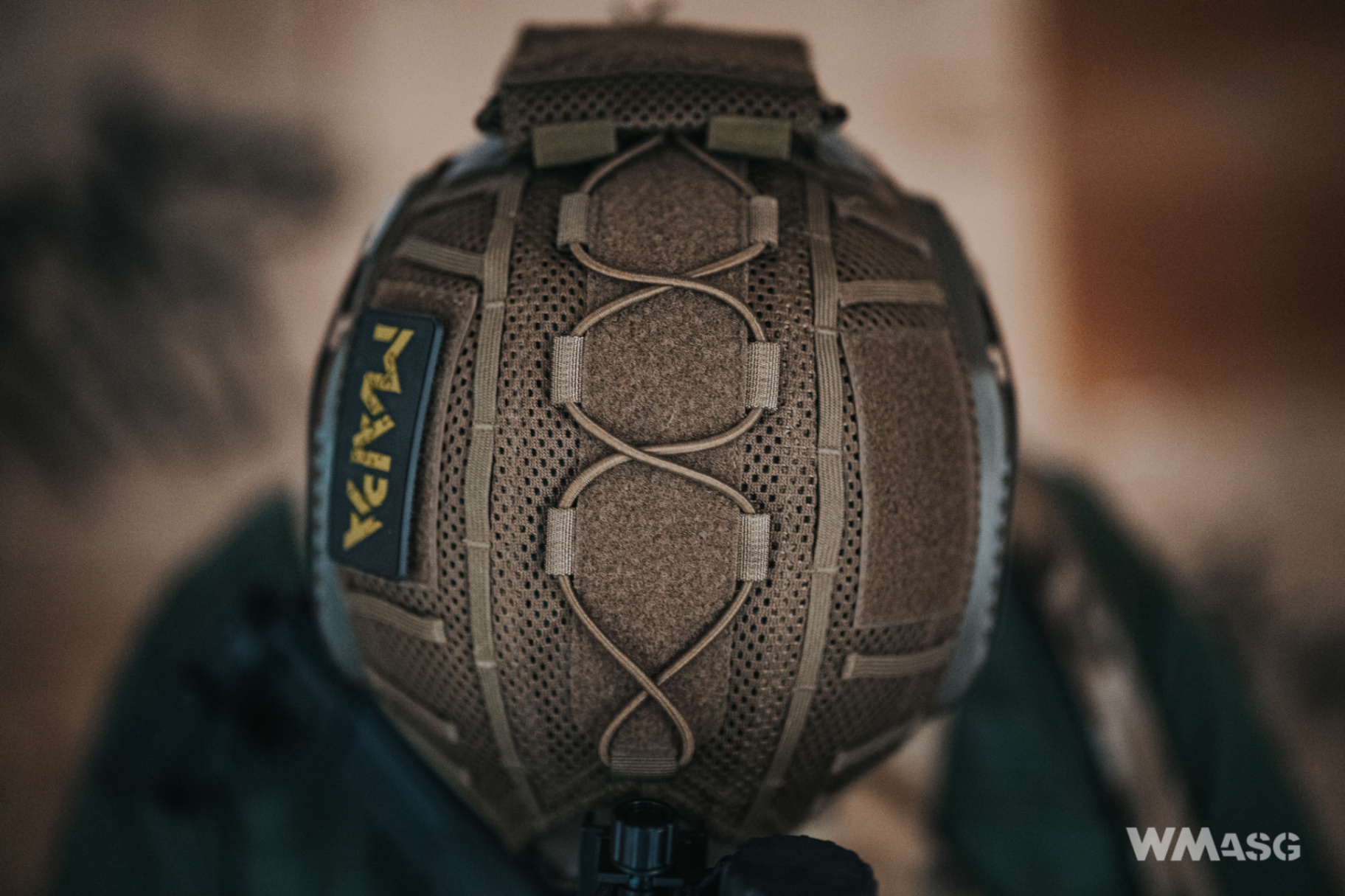 The cover
To be fully "tactical", the only thing missing is a cover, which the manufacturer offers separately. It is easily attached with a Velcro and it takes only a moment. It is made of a durable construction mesh, 10 and 25 mm thick tapes, soft Velcro and shockcord. 1 cm tapes go along the cover and have also been sewn on its sides. One can use them, for example, to attach elements of flora to improve one's camouflage. In the middle, there is a Velcro loop sewn along the entire length, with loops of 25 mm tape spaced on both sides, through which the shockcord passes. This surface can be used to mount e.g. the Mohoc cameras. Additional two velcro panels can be found on the sides. They are perfect for morale or identification patches. At the back of the cover there is a detachable pocket for carrying a counterweight for the night vision device. It holds firmly thanks to the large surface of the Velcro used there. In addition, a tunnel for the shockcord runs through its center, which also protects this element from being lost. There are four flat rubber bands sewn on the outside, which can be used to put e.g. an IRR lightstick through them. Under the flap, which is trimmed with a Velcro on both sides, there is the main compartment and one smaller flat one. It has a piece of tape inside to protect the item held in it from falling out.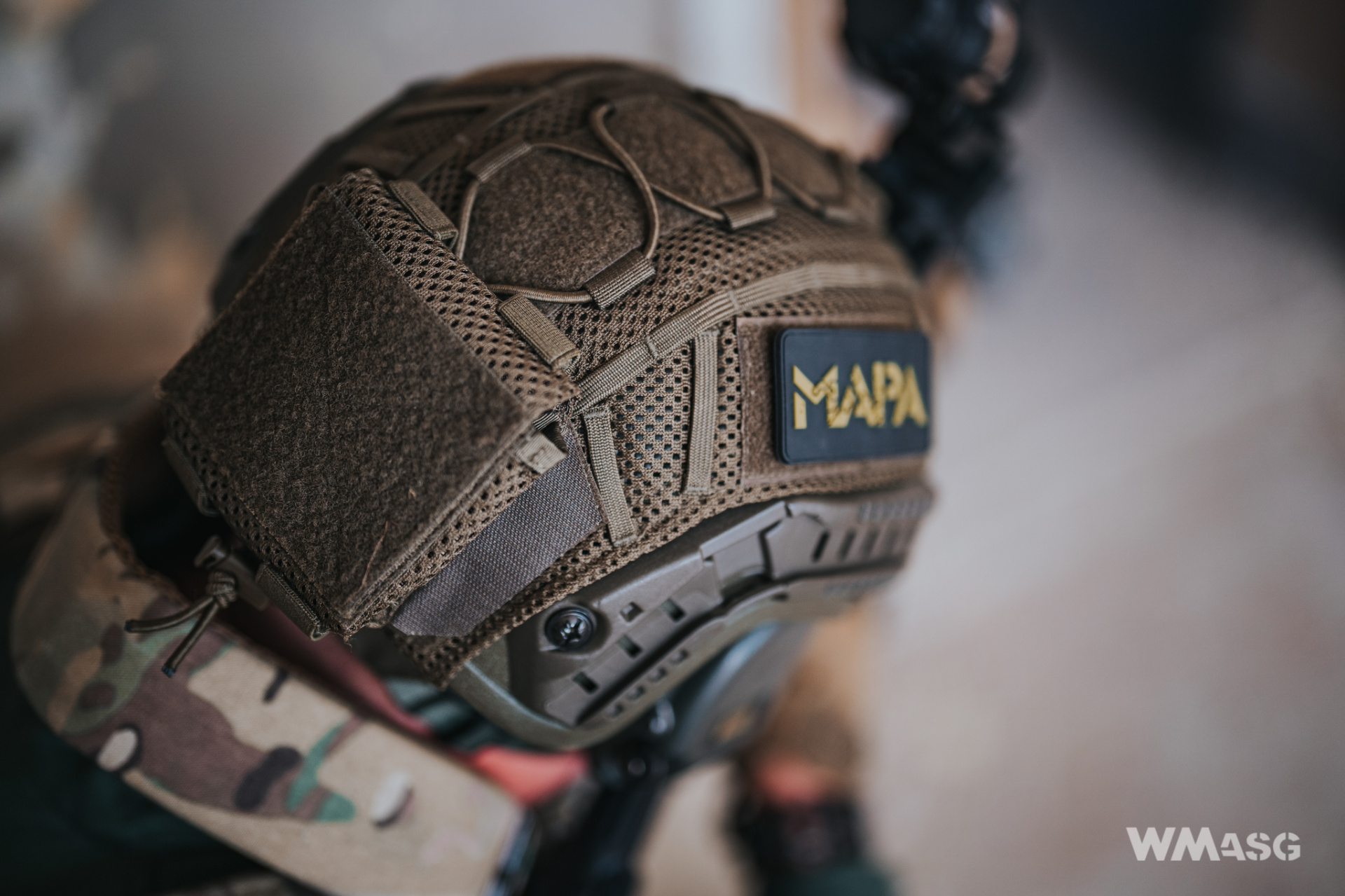 Bulletproof standard
The LHO-01 light protective helmet is designed to withstand a 9 mm FMJ (Full Metal Jacked) bullet weighing 8 grams and moving at a speed of 332 +/- 15 m/s. At the same time, it provides resistance to fragments weighing 1.1 g at 400 m/s < V50 < 500 m/s. For comparison, I will cite the commonly used Polish Armywz.2005 modified combat helmet: shrapnel resistance - the V50 parameter over 600 m/s for a 1.1 g FSP fragment, bullet resistance - 357 Magnum JSP 10.2g (425 +/- 15) m/s and 9 x 19 mm FMJ 8 .0g (360 +/- 15) m/s.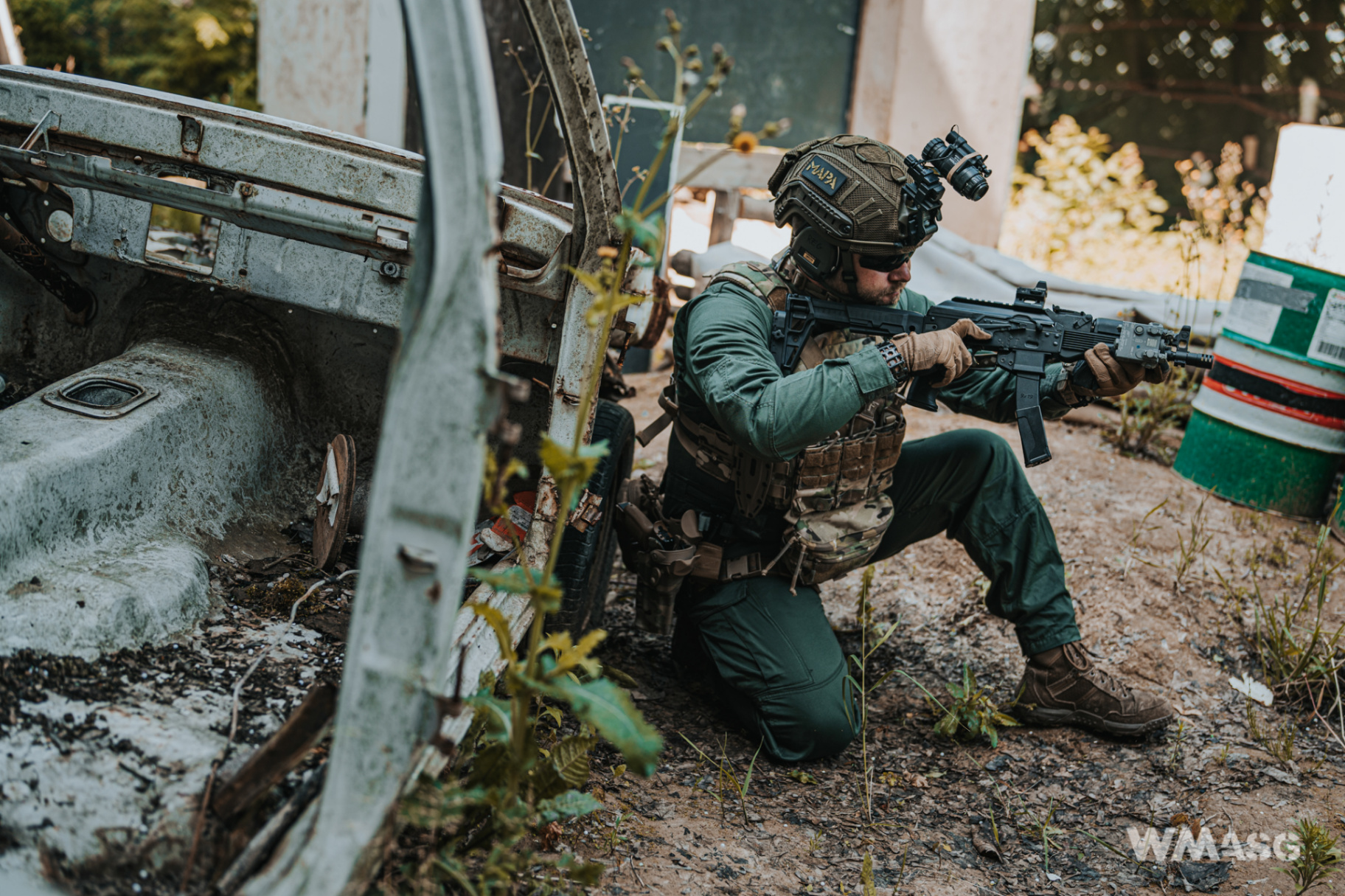 Summary
At the time of publication of this text, the LHO-01 costs around 2,000 PLN (450 EUR), which, in my opinion, is not an excessive price for a product that is supposed to provide some (not at all low) ballistic protection. Considering that some replicas that offer absolutely no protection can be valued in the range of even 500 PLN (113 EUR), this is not a prohibitive amount. So maybe, instead of another weapon replica, it's worth considering buying a Light Protective Helmet? Especially that its low weight (weighs less than 1 kilogram) and perfect fitting, it is simply comfortable.
A twisted belief took root in Poland, that everything related to products that are somehow connected in any way with the Polish Ministry of National Defense are badly made. This has long been a decidedly wrong way of thinking. Polish industry is well developed and products it has to offer are often at the forefront of what the competitors have to offer, although there is still much to be done in the field of marketing (but it is also gradually improving). Unfortunately, more often then not the manufacturers are criticized for the decisions made by the state administrator. I encourage you to visit a nearby store with a helmet from Konieczek in the assortment, and this should not be a major problem, because the availability of this product is currently very good. After a closer look with one's own eyes, maybe some will have a different outlook on the domestic industry.
Personally, I see many uses for the LHO-01 even among our more ambitious paramedics who train on their own in the scenarios that their colleagues had to deal with abroad. Of course, for people who regularly visit shooting ranges, the topic of ballistic protection is always on their mind, unfortunately, the prices have often put this issue on the back burner. For the price proposed here, many people might rethink this topic again. At this point, I will ask you, our readers, for your opinion. Would you buy this helmet, or do you know other alternatives with similar parameters and price?
This text was created as part of an commercial cooperation with PGZ MASKPOL S.A. As always, we have made every effort to ensure that the following article provides reliable information. It presents the author's opinion and does not close further discussion, to which we invite you in the comments.