XS® Sights now offers the new, second generation of R3D 2.0 and Minimalist tritium night sights in standard and suppressor-compatible versions for selected SIG SAUER, Springfield Armory and FN pistols.


The R3D 2.0
New, improved second-generation tritium sights designed for self-defense are brighter, stronger and even easier to install than the original R3D models. Designed for increased speed and accuracy in any light conditions, the R3D 2.0 features a dual rear tritium dot and a contrasting orange or green dual-illuminated Glow Dot front sight that is wider than many available on the market at 3.68 mm or .145 in). The self-illuminating tritium Glow Dot glows in low or zero light conditions for 12 years and is encased in XS patented photoluminescent material that absorbs ambient light and then releases it in low light conditions. This makes the front sight brighter than the two rear tritium dots and, combined with the wide notch in the rear sight, provides more visible indexing for increased precision and accuracy.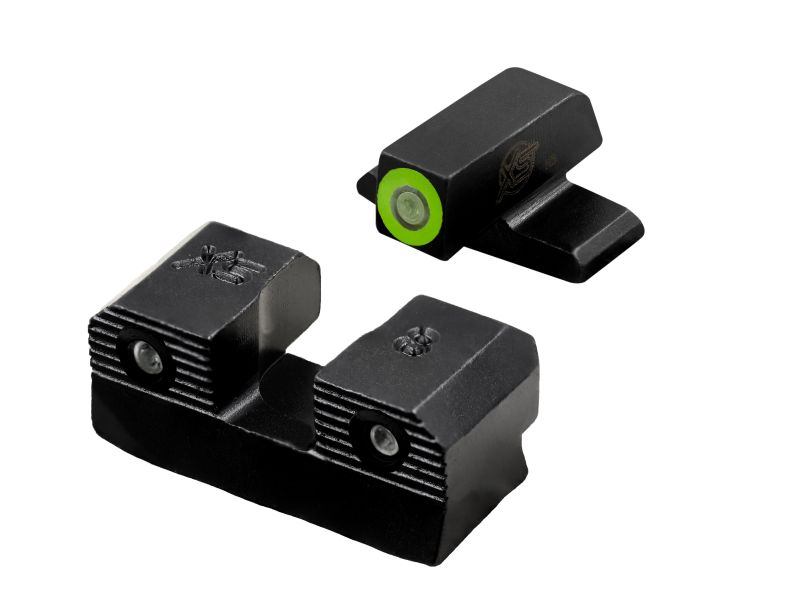 R3D 2.0 improvements over Gen-1 models include:
Larger and brighter rear tritium dots
PVC rings surrounding rear tritium dots
EasyPress features eliminate the need for filing and hammering reducing the amount of force used for installation by up to 50%
BlackNitride finish with double the corrosion resistance of the original black oxide surface treatment for increased durability
Retail price: $131.99 for standard height version, $142.99 for suppressor height version.


Minimalist Night Sights
Minimalist Night Sights are equipped with a self-illuminating tritium (orange or green) Glow Dot front sight and a serrated, anti-reflective, non-tritium rear sight. Designed to be as minimalist as possible, this set focuses on the front sight. The dual-illuminated Glow Dot front sight features a self-luminous tritium bubble surrounded by XS's patented photoluminescent Glow Dot that absorbs ambient light and glows in low light conditions. This combination ensures that the front sight will shine brightly in low light and contrast well with the darkened rear in bright light conditions.

Retail price: $59.99 for standard height version, $69.99 for suppressor height version.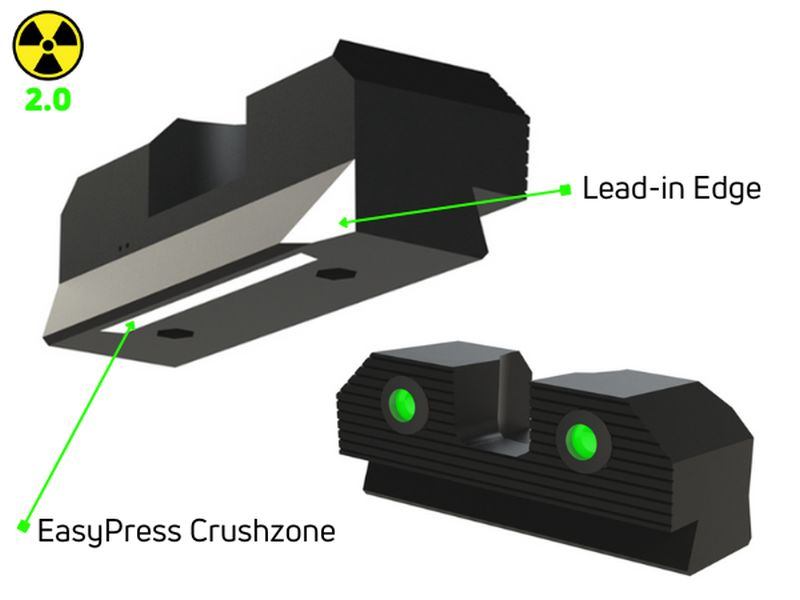 The R3D 2.0 and Minimalist Night Sights feature a trailing rear sight for easy one-handed charging and are available with an orange or green front sight in standard height or suppressor height versions for the following pistols:

SIG SAUER:
P320, P365, P225, P226, P228, P229, SP2009, SP2340, X-Macro, X-Compact, P365XL

Springfield Armory:
XD, XD-M, XD-S, XD-S MOD.2, XD-E, Hellcat

FN:
509

So far, R3D 2.0 sights were available for Canik, Glock, Smith & Wesson, Taurus, Tisas and Walther pistols. The manufacturer has announced an imminent introduction of sights for CZ, H&K, Desert Eagle and 1911 pistols to its offer.

Source: www.xssights.com.